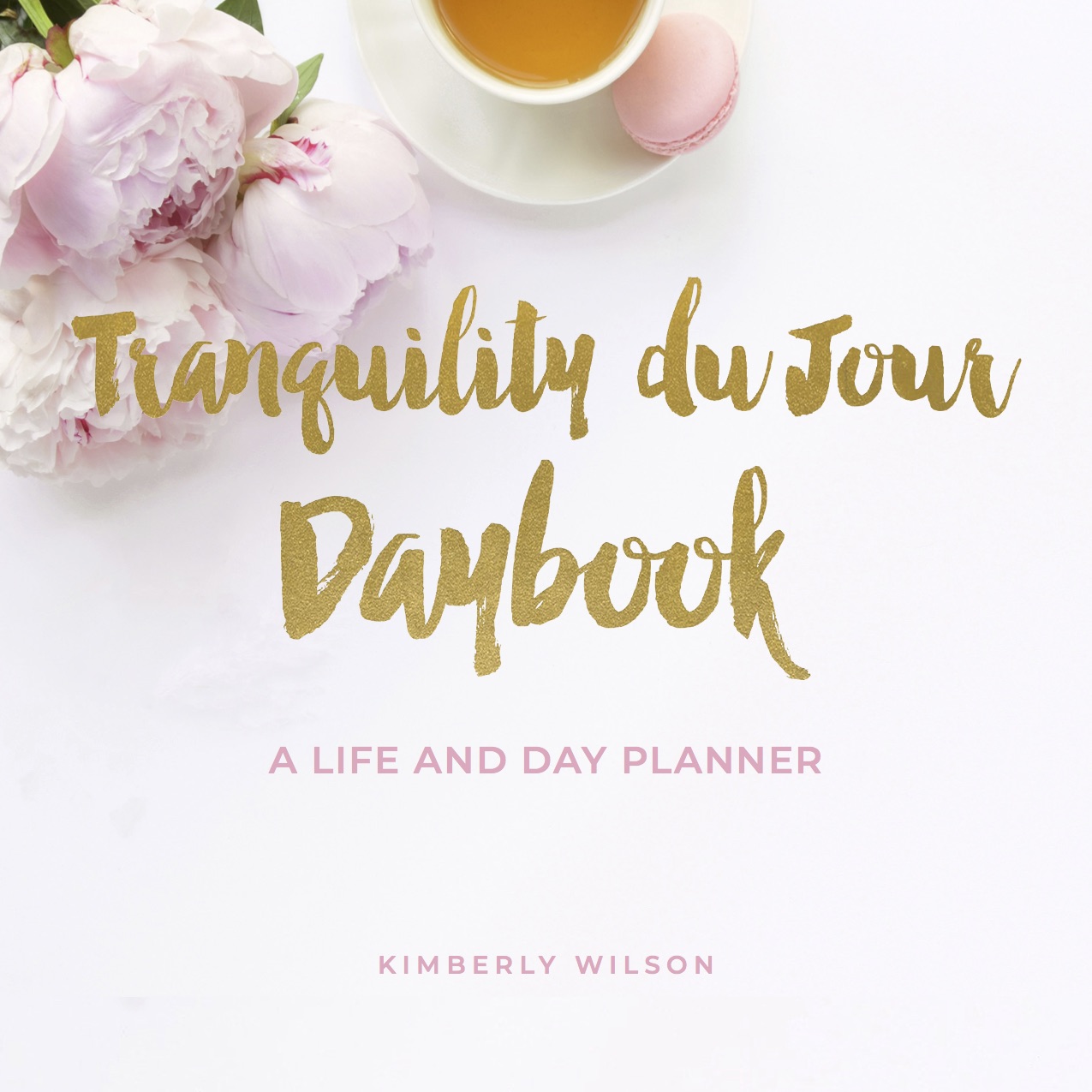 What's the difference between Year of Tranquility and Tranquility du Jour Daybook?
Year of Tranquility: A Lifestyle Planner has no weekly layouts and 12 essays/4 weekly practices not found in the Daybook. It's more of a lifestyle planner and you can search inside it on Amazon. The Daybook has 60 weekly layouts plus all the Year of Tranquility lifestyle pieces MINUS the 12 essays and associated weekly practices.
When will the Daybook be available?
The Daybook will be available on Amazon early June and I'll be sure to let everyone know as soon as it's ready!
What are the new features in this edition of the Daybook?
how-tos: journaling, yoga, seated and walking meditation [NEW!]
a list of Artist Date ideas [NEW!]
a chart with suggestions on how to use your weekly layout [NEW!]
space for your word/theme of the year [NEW!]
six Tranquility du Jour Tenets [NEW!]
an updated Tranquility du Jour manifesto [NEW!]
32 Tranquility Tools: daily, weekly, monthly, seasonally plus tick boxes for tracking
a wellness planner to track or plan meals, sleep, exercise, mood, and water intake
current and ideal 168-hour schedules
seven-day detox plan and 10 tips
15 journal writing prompts [NEW!]
a detailed description on how to use the Daybook [NEW!]
six yummy and simple plant-based recipes
monthly budget
weekly spending tracker [NEW!]
monthly habit trackers [NEW!]
a two-page visual layout of your year [NEW!]
60 weekly layouts to capture your daily schedule, to-dos, and projects
space to write your weekly gratitude and intention
12 monthly layouts to pen dreams, intentions, and review
pages to dream: books to read, places to visit, things to experience, start and stop, gratitude
four Seasonal Life Reviews to reflect on life trends
a tranquil travel packing checklist
a Savvy Sources podcast list [NEW!]
tips on creating a capsule wardrobe
30 days of tranquility monthly challenge
moon phase journal prompts [NEW!]
ideas to practice everyday tranquility, creativity, activism, and mindfulness [NEW!]
letter to your future self how-to [NEW!]
a bucket list page to note your life's dreams [NEW!]
a seasonal aspirations page [NEW!]
blank inspiration pages for doodling, taking notes, and dreaming
What bonuses come with the Daybook?
1. Workshop
I'll walk you through ways to use Tranquility du Jour Daybook  to set your days and life up for a year filled with what matters most to you. Coming 6/30.
2. Playlist
Enjoy a Spotify playlist filled with French-inspired tunes designed to fuel your creative spark as you move through the planning process.
3. PDFs
Enjoy an assortment of  PDFs to print and use with your new Daybook.
What the the Daybook's specs?
270 perfect bound full-color pages
portable 8.5×8.5 size
$54
What if I want a spiral version?
Although Amazon doesn't offer a spiral bound option, your local print shop can chop off the perfect binding and turn it into a spiral for a nominal fee. You can often choose metal or plastic spirals and sometimes from a variety of colors!
When will the PDF version be available?
The Daybook PDF will be available for purchase in early June for $29. Color printing is usually quite pricey unless you have access to your own color printer. However, this is a great option for making it your own as shown in this sweet video by Daybook aficionado Barbara.