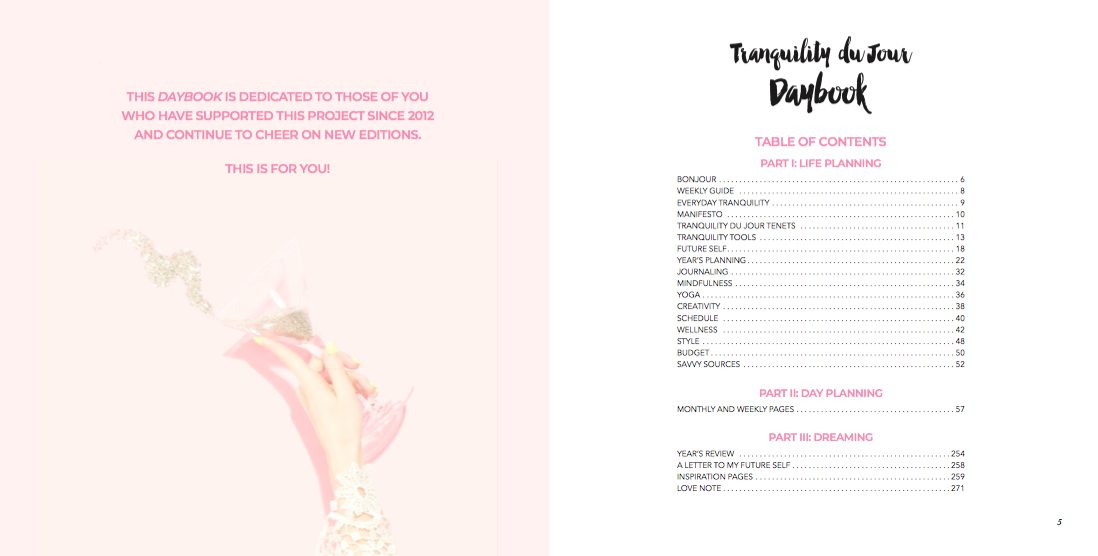 Happy June!
As I spend my Saturday morning tying a bow around the PDF bonuses for the Daybook (includes an art journal tutorial, SMART goals scoop, how to host a ChariTea, weekly budget, and more), I'm delighted to announce that the latest 272-page version of the Daybook is now available on Amazon.
Once you orders, head here to grab your bonuses:
1. TWO workshops: Save the date for our live virtual book launch party on 6/28 at 8pm ET. Also, I'll walk you through creative ways to set up your Daybook in a video workshop. Coming 6/30.
2. Enjoy a Spotify playlist filled with French-inspired tunes designed to fuel your creative spark as you move through the planning process.
3. Download an assortment of  PDFs to print and use with your new Daybook. Coming 6/5.
For ongoing community, please join the Tranquility du Jour Daybook Facebook group and share photos of your personalized planner using #tdjdaybook. As soon as my copy arrives mid-week, I promise to do the same.
We spent FIVE months writing, editing, designing, and redesigning to make it as beautiful and useful as possible and I truly believe it's our best one yet. I can't thank you enough for your support and enthusiasm around this project.
Please reach out when you have yours in hand and let me know what you think. I love hearing from you and am honored to create for you! Bisous. x