A pink planner, lifestyle organizer, and wellness guide all-in-one. This is the story of the Tranquility du Jour Daybook.
After months of dreaming, design, research, and edits, on November 11, 2012  I announced its release. The seed for this project was planted by an email from a blog reader/friend and took sprout with the $100 donation from the 2012 World Domination Summit.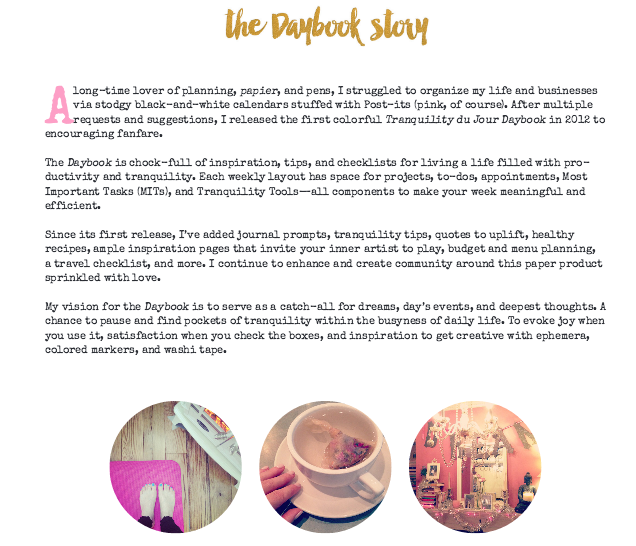 I'm honored knowing that this small batch labor of love is in the hands of creative women around the globe. My wish is that this little gem offers a dose of tranquility, organization, and love to your every day! Thank YOU for your support of this creativity + productivity project.
1.0 Edition Features
This sweet, colorful, square, 200-page dateless daybook PDF is sprinkled with artsy watercolors by Mary Catherine Starr and includes:
daily checklists
weekly checklists
monthly checklists
8 defined tranquility tools for daily, weekly, and monthly well-being
4 wheels of life to review seasonally
60 dateless weekly planner spreads with space for appointments, projects, and to-dos
12 dateless monthly layouts with accompanying page to collage and pen month's dreams
inspiring quotes on each weekly layout
savvy sources
open pages to collage, pen dreams, and muse
$19, available via instant download. 7.5 x 7.5 format.