Monthly Live Video Calls
Connect live and dive deep into a new theme. Includes a replay and a PDF Playbook.

Lifestyle Guides (aka Playbooks)
Enjoy colorful PDFs filled with an assortment of tools, tips, resources, and more to accompany online events.

Weekly Check-ins
Inspiration and resources to help you practice the month's theme delivered straight to your inbox each Tuesday.

1-hr live video gatherings featuring seasonal tranquility tools, PDF Playbook, and private after party with replay.

Spring and Fall Half-Day Virtual Retreats
Spend 3 hours basking in a retreat experience from the comfort of your own home. Includes a PDF Playbook and replay.

Private Community Forum
Daily access to connect and share, ask questions, and explore the monthly topics further.

Style Inspiration
Explore ways to make daily dress-up a joyful experience that reflects your spirit. 
Mobile-Friendly Design
Enjoy your Year of Tranquility inspiration while on-the-go.

Awaken Your Inner Artist
Learn tools to reconnect with your creative spark.

Bonus Podcasts
Tune in to special interviews and musings created just for you. 
Choose Your Plan
Monthly

[Most Flexibility]
Daily Access to a Private Community Forum (not Facebook)
Weekly Check-ins and Resources
Monthly Live Video Calls and Replays
Style Inspiration and TranquiliT Special Sales
Mobile-Friendly Design for On-the-Go Inspiration
Lifestyle Guides (aka Playbooks) to accompany Monthly Calls, Seasonal Retreats, and TDJ Lives
50% off Spring and Fall Half-Day Virtual Retreats
x
x
x
x
x
Annual

[Most Savings + Perks]
Daily Access to a Private Community Forum (not Facebook)
Weekly Check-ins and Resources
Monthly Live Video Calls and Replays

Style Inspiration and TranquiliT Special Sales
Mobile-Friendly Design for On-the-Go Inspiration
Lifestyle Guides (aka Playbooks) to accompany Monthly Calls, Seasonal Retreats, and TDJ Lives
Spring and Fall Half-Day Virtual Retreat and Replays Included
Private TDJ Live After Parties and Replays
Bonus Podcasts
25% off TranquiliT
Midyear Tranquility-Filled Care Package via Snail Mail*
50% off Mentoring
*International shipping extra
FAQs
1. What is the Year of Tranquility?
The Year of Tranquility is a yearlong program focused on helping you live your best life through reflection, intention, and action.
Daily we'll connect via our community forum (not Facebook) to share ideas, ask questions, and explore the practice of our monthly theme. 
Weekly you'll receive inspiration straight to your inbox to keep you connected to the month's theme.
Monthly we'll dive deep into a tranquility-themed topic via an online video call and accompanying PDF to learn new tools for living with ease, achieving your dreams, and finding meaning along the way.
Seasonally we'll connect via TDJ Lives and private after parties (starting in spring) plus half-day retreats in the spring and fall. 
2. What will we be studying?
Each month we'll have a new focus to explore in depth with accompanying practices, resources, and encouragement. The monthly topics are listed below.
January: Dreams
February: Love
March: Style & Beauty
April: Creativity
May: Minimalism
June: Wellness
July: Yoga
August: Self-care
September: Mindfulness
October: Writing
November: Entrepreneurship
December: Meaning
3. I'm very busy, how much time will this take?

You can engage as much or as little as your schedule allows. I'd encourage devoting at least one to four hours a week to the material. You have the opportunity to connect daily through our community forum, weekly through an email check-in, monthly though our live video calls, and seasonally though TDJ Lives, after parties, and two half-day virtual retreats.
Also, you'll be practicing new tools in your daily life, spending time in reflection, joining us for live offerings, and reading and exploring the weekly emails. The more time and energy you're able to devote to this program, the more you'll learn and embody. 
4. Where will the online community be since it's not on Facebook?

We'll be connecting on an easy-to-use private page filled with all you need to participate in the program.
5. How much does it cost?

The Year of Tranquility costs $29/month ($348/year) or $299 for the annual.
6. What is your cancellation policy?

The Year of Tranquility is filled with digital resources, so there aren't any refunds but you can cancel your monthly membership at any time (see #14 below for more details).
7. What happens after I register? 
In early January you will receive a welcome packet filled with everything you need to prepare for the Year of Tranquility program. We launch with our online video calls on January 14 at 8pm ET and will meet monthly the first Sunday of every month starting in February. Our first TDJ Live After Party will be on March 25.
8. What if I can't make the live sessions? 
While joining in person is ideal, we understand that there are time zone, family, and many other constraints that may prevent you from being with us. We'll sure miss you and will be recording everything for you to watch at your leisure. ALL replays are included in the annual membership and available within 48 hours of the event. Monthly subscribers receive replays of each month's module.
9. I'm not very techy, what do I need to participate?
You'll need either a phone or an internet connection and computer or smartphone to participate in the live gatherings via Zoom. Materials will be sent as PDFs and they'll be occasional mp3s and recorded video links for you to click. You'll also want a journal and pen, plus the optional comfort materials suggested in your Welcome Packet.
10. I missed the start date, is it too late to join?
Not at all, hop in mid-year if you'd like! Annual members will have access to all past month's materials and monthly members can get started with the month in session. Both will have access to the additional perks during their memberships!
11. How long does the program run? 
January 14-December 31, 2018.
12. Will I have access to the materials forever?
Absolutely! Download the PDFs and videos to your computer to enjoy again and again. Annual members will have access to an archived page. Monthly members are encouraged to download the materials at the end of each month and will be prompted accordingly to do so. 
13. I'm doing the monthly option and want to upgrade to the annual option to take advantage of the additional perks. Is that possible? 
Yes, reach out to us and we'll get you set up!
14. Does this include personal support from Kimberly? 
During our live events, I'm all yours and you are welcome to ask questions. I'll be popping in to the forum a few times a week to offer support, answer questions, and check in. If you have any program needs, definitely reach out. One-on-one support is not part of the program and a deeper level of personal support is offered through mentoring  (50% all year for annual members).
15. How does the monthly option work? 
When you sign up for monthly, you enroll in automatic monthly payments for Year of Tranquility. The system will charge you on the same day of the month you joined and you don't need to do anything extra to stay enrolled. If you need to pause your involvement, you can do so by logging in and clicking on the "unsubscribe" button on the YOT welcome page before the next Module releases. 
16. I have another question, how do I contact you?

Feel free to reach out to us at hello@kimberlywilson.com.
Your Adventure + Guide
I'm Kimberly Wilson and am delighted to offer this brand new Tranquility du Jour program.
The Year of Tranquility is truly a piece of my heart and life's work—a true lifestyle adventure for anyone seeking more fun and flow with the tender care from a guide also along on the journey. 
This comprehensive program is filled with inspiration from two decades of entrepreneurial, yoga, and mindfulness experience, blended with my study of positive psychology, and work as a psychotherapist, writer, and designer (learn more here). 
There will be no PowerPoints or Facebook groups, but rather artsy lifestyle guides and a private forum. 
This adventure is for those who seek deeper self-understanding, enjoy reflection, love learning, appreciate beauty, and want to grow within a collective of individuals who value connection and compassion. 
The Year of Tranquility is a practice to bloom more into who you want to be and how you want to show up in the world. It's for dreamers and doers. An opportunity to create new habits and  open a door into your heart's longing.
If this sounds like an experience for you, I'd love to have you join us! 
Your Support
A portion of all proceeds from Year of Tranquility helps provide micro grants to pig sanctuaries and pug rescues in need through Pigs & Pugs Project. Thank you for making a difference in the lives of all beings!
Testimonials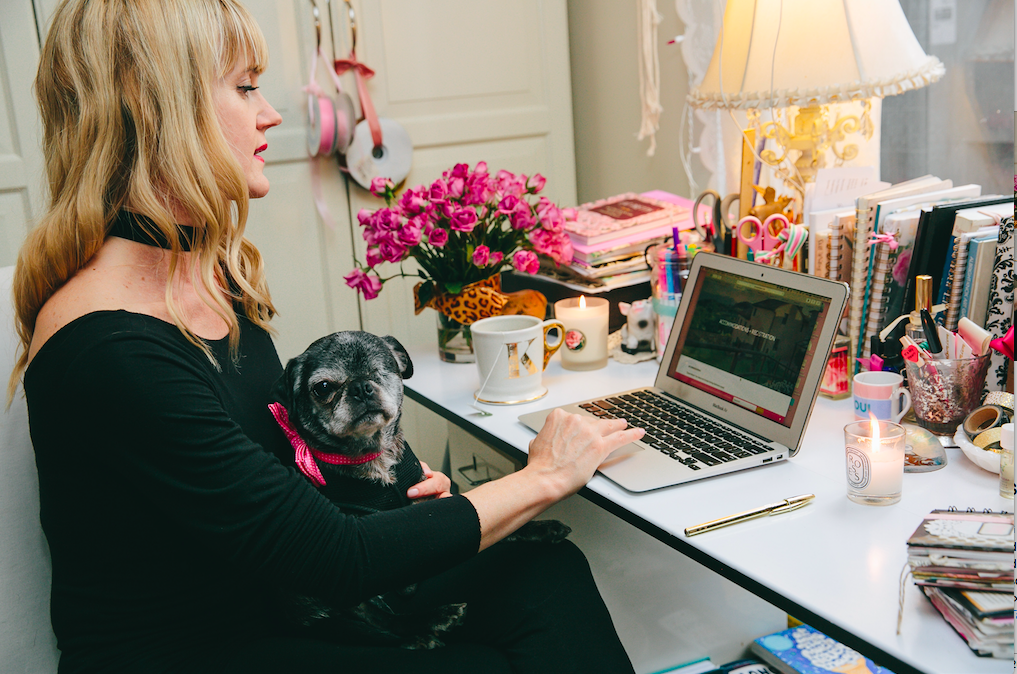 I love meeting each month with like-minded participants. To spend a month on one topic is much easier than seeing the full year and going after all the improvements at one time. That is overwhelming to me but you make it doable with your constant reminder that I am wonderful just as I am. If I want to try to change something, then go for it. This is a way for me to see areas that if I want to improve, I can and you have ideas for that change. I love the fact that there are no rules that I HAVE to do this or that. Thank you for YOT.
The Year of Tranquility program is the perfect balm for reconnecting with creativity and adventure, whether it's outward adventures like "artist's dates," or exploring the inner self through self-care and introspection. YOT is a wonderful companion to daily living, and Kimberly is a wise, enthusiastic, and compassionate guide!
YOT has been a lovely experience and investment in my mind,body and soul this year. There is always so much inspiration and ideas to pull from that can be applied to our day to day lives. Kimberly has a gift for considering the whole person with her creations.
I have absolutely loved committing to a year all about me through YOT! I'm a working mom of two young kids and I feel like I spend so much of my energy focused on others. YOT has given me the permission and time commitment to focus on me! It feels amazing so self reflect in such a healthy, positive way. Because of my time in YOT, I have lost 30 pounds, grown my veggie garden, cleared clutter in my house, got out of debt, signed up for a tap class, and generally have more time to do what is most important to me! Thank you Kimberly for such an amazing class!
As the months speed by, they are marked by time with Kimberly via live video. She lightens my Sunday and makes sure I take notice of and expand important aspects of life like creativity, wellness, minimalizing my environments to the essentials I love, and dreaming and of course- yoga.
This outstanding year-long program delivers on all its promises! I am enjoying my best year—infused with the tranquility that comes from setting intentions, taking action and making time for reflection.