Let's hit the pause button on busyness.
Mindfulness offers a transformative approach to managing and mitigating life's challenges. In our fast-paced and digitally driven world, we may grapple with stress, anxiety, and a constant sense of being overwhelmed.
By immersing ourselves fully in the present, we can detach from the tumultuous stream of thoughts, allowing for a sense of clarity and mental reprieve. Nurture a healthier relationship with others and yourself through these simple, science-backed practices.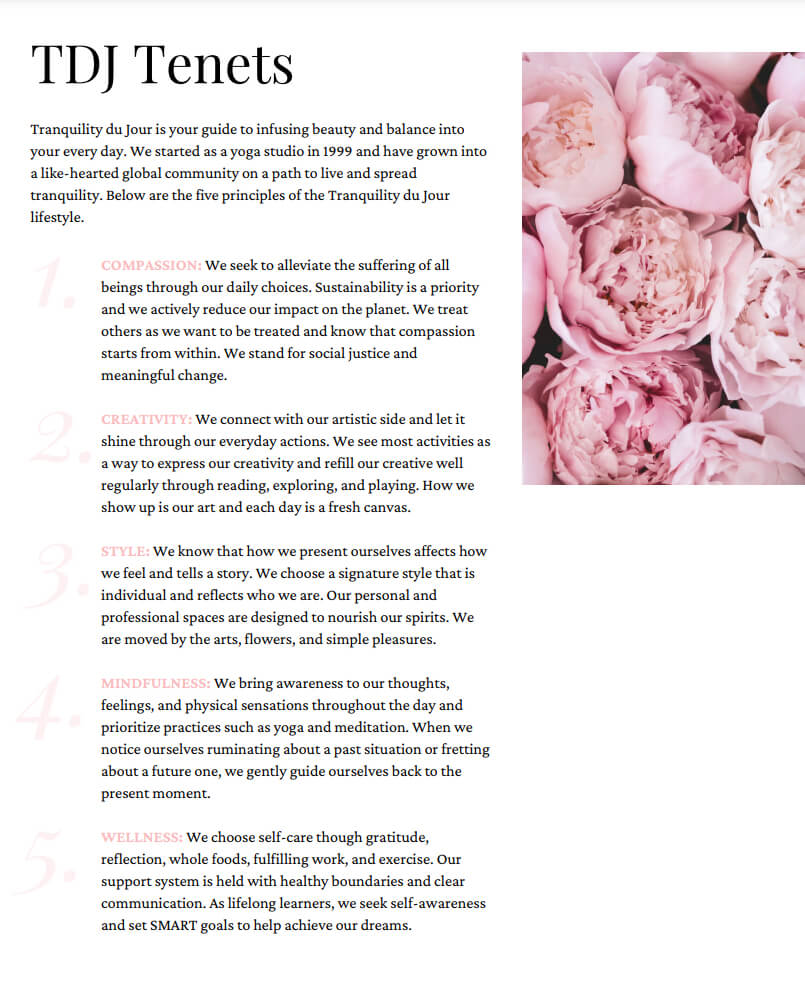 We bring awareness to our thoughts, feelings, and physical sensations throughout the day and prioritize practices such as yoga and meditation. When we notice ourselves ruminating about a past situation or fretting about a future one, we gently guide ourselves back to the present moment.
Tranquility du Jour
Mindfulness Micro-Course
The Mindfulness micro-course is your gentle guide to finding calm and ease in the chaos and busyness of life.
You will learn how to . . .
✔ Find more ease through formal mindfulness practices
✔ Use the 3Ns to help manage thoughts and emotions
✔ Make friends with yourself
✔ Incorporate informal mindfulness practices to help in the moment
✔ Identify cognitive distortions that may keep you stuck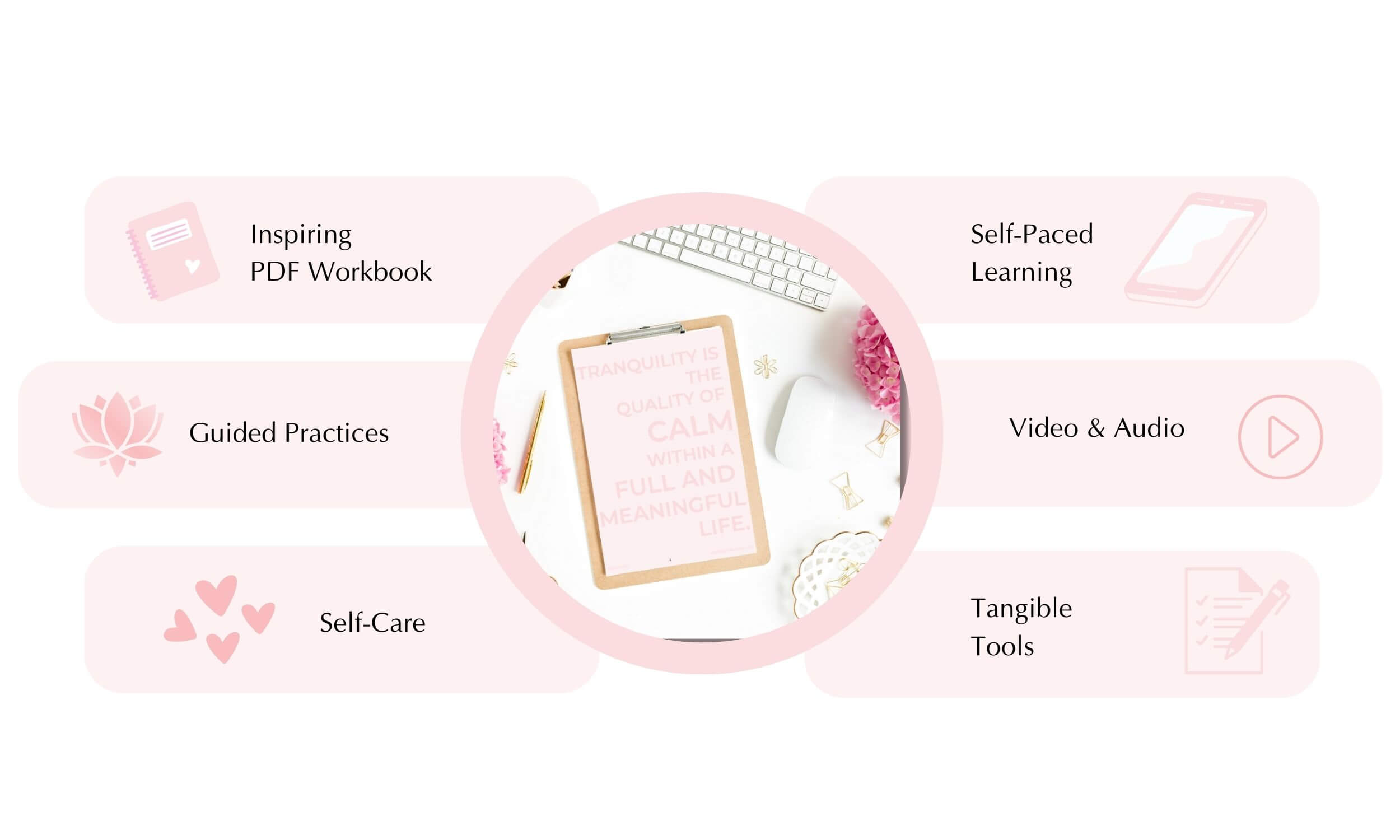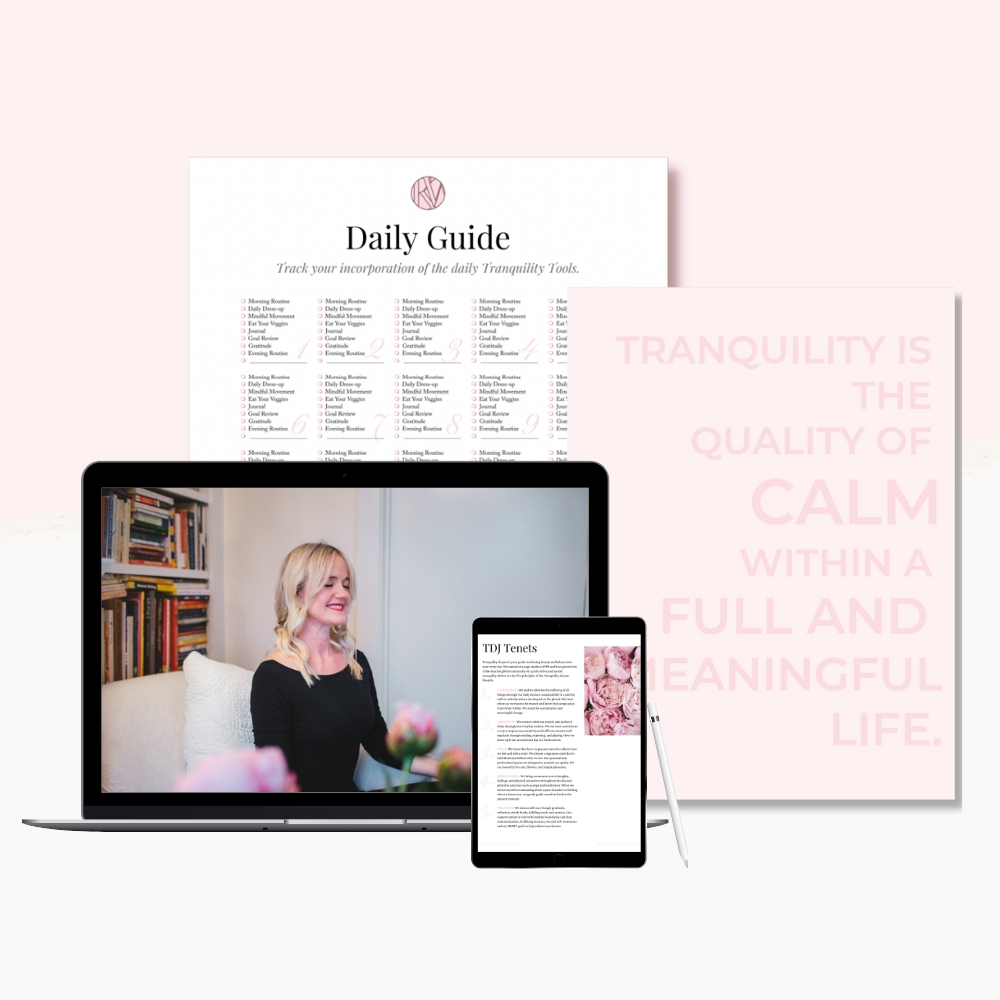 Your Guide to
Everyday Mindfulness
This course offers a salient solution to the stress and overwhelm caused by our fast-paced lifestyles. Mindfulness helps us personally cultivate deeper connections by encouraging active listening and empathetic understanding. At work, mindfulness have proven effective in mitigating burnout, enhancing focus, and promoting creative problem-solving.
Eager to find more ease in your every day?
Mindfulness practices assist in managing anxiety and emotional reactivity. By getting grounded individuals in the now, mindfulness effectively promotes a balanced and resilient approach to life's many twists and turns.
Start your journey to inner tranquility today.
Seeking a more complete path to tranquility?
MEET YOUR TRANQUILITY GUIDE
I'm a psychotherapist in private practice and midlife mentor, committed to helping women embrace the joys of this transformative phase of life and empowering them to find renewed purpose and tranquility in their every day. I also serve as president of Pigs & Pugs Project and design eco-fashion TDJ.
For over 20 years, I've studied, practiced, and taught the art of tranquility to global audiences. As the host of the Tranquility du Jour podcast, author of multiple lifestyle-focused books, and creator of online courses and events, my mission is to guide midlife women towards balance, beauty, and renewed purpose in their everyday lives.
I have Master's in Women's Studies and Social Work and has been featured in The Washington Post, Cosmopolitan, Washingtonian, Huffington Post, US News & World Report, Yoga Journal, and Bella Grace. I live in Washington, DC with rescue pugs and a longtime partner while also dreaming of Paris.
My obsessions include ballet, matcha lattes, snail mail, and buying more books than I could ever read. Join the tranquility movement and enjoy ongoing inspiration through my Love Notes.