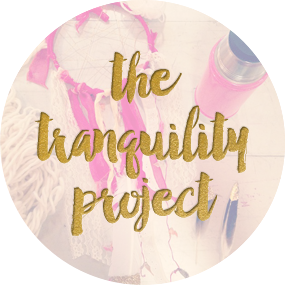 Join Kimberly for tips on ways to live life fully, with tranquility, and a dash of flair. Despite the hectic pace at which most of us live, there is a desire for balance and peace at the core.
After reading Gretchen Rubin's The Happiness Project, Kimberly dreamed up a similar exploration of tranquility based on the many tools she's found beneficial since launching into "tranquilosophy" in 1999.
This e-course's four modules focus on favorite tranquility tools for mind, body, soul, and combo (all of the above). Musings and podcasts by Kimberly, along with a sprinkling of lifestyle-focused videos bring these tools to life.
Bask in new ways to infuse tranquility into your every day, reconnect with forgotten tools, and emerge inspired. Learn tips to practice mindfulness, try yoga, make self-care a priority, declutter, breathe fully, accessorize, and more!
Dabble in deep reflection and artistic play assignments with your art journal and create your own bucket list of dreams.
In addition, you are encouraged to commit to a daily spiritual practice such as yoga, running, meditation, prayer, or nature walks – whatever resonates most with you.
Tranquility Project Topics
Week 1: Mind
Meditation
Everyday mindfulness
Tracking time usage
Yoga philosophy
Week 2: Body
Breathwork
Fave yoga sequence
Green smoothies
On-the-go yoga
Week 3: Soul
Art journaling
AM/PM reflection rituals
Self-care
Setting up an altar
Week 4: Combo
Writing
Accessorizing life
Decluttering
Financial finesse
Materials needed:
Blank visual journal
Yoga mat
Colorful pens and/or pencils
Scissors
Gluestick
Magazines
Optional:
Acrylic paint
Paint brush
Stamps
Digital camera/Camera phone
Investment:$39
Lifetime access, download and explore at your own pace.