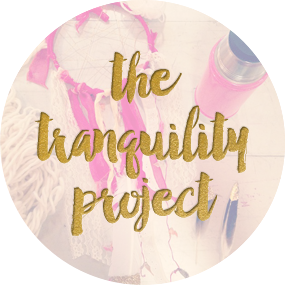 Join Kimberly for tips on ways to live life fully, with tranquility, and a dash of flair. Despite the hectic pace at which most of us live, there is a desire for balance and peace at the core.
After reading Gretchen Rubin's The Happiness Project, Kimberly dreamed up a similar exploration of tranquility based on the many tools she's found beneficial since launching into "tranquilosophy" in 1999.
This e-course's four modules focus on favorite tranquility tools for mind, body, soul, and combo (all of the above). Musings and podcasts by Kimberly, along with a sprinkling of lifestyle-focused videos bring these tools to life.
Bask in new ways to infuse tranquility into your every day, reconnect with forgotten tools, and emerge inspired. Learn tips to practice mindfulness, try yoga, make self-care a priority, declutter, breathe fully, accessorize, and more!
Dabble in deep reflection and artistic play assignments with your art journal and create your own bucket list of dreams.
In addition, you are encouraged to commit to a daily spiritual practice such as yoga, running, meditation, prayer, or nature walks – whatever resonates most with you.
Tranquility Project Topics
Week 1: Mind
Meditation
Everyday mindfulness
Tracking time usage
Yoga philosophy
Week 2: Body
Breathwork
Fave yoga sequence
Green smoothies
On-the-go yoga
Week 3: Soul
Art journaling
AM/PM reflection rituals
Self-care
Setting up an altar
Week 4: Combo
Writing
Accessorizing life
Decluttering
Financial finesse
Materials needed:
Blank visual journal
Yoga mat
Colorful pens and/or pencils
Scissors
Gluestick
Magazines
Optional:
Acrylic paint
Paint brush
Stamps
Digital camera/Camera phone
Investment:$39
Lifetime access, download and explore at your own pace.

[spoiler style="fancy" icon="chevron" title="Read Testimonials"]"Give yourself this gift! It's worth it! After practicing yoga for the last six months I chose to deepen my practice with Kimberly's e-course. I was astonished by how it opens your mind and heart to the endless possibilities that await you. The practice of daily meditation, journaling and frequent yoga helped me move from feeling like I was in a rut to finding momentum in my life again. Sometimes it takes a little introspection and spending time with yourself to figure out what you need to do to make your dreams come true. With Kimberly's guidance during this six-week course, goals, ideas, inspirations and tranquility can blossom. It's an exciting experience and one that I highly recommend." -Kristin G.
"I am writing to tell you I am TOTALLY RE~INSPIRED. I have created more in the last few weeks, than I have in years. I recently moved back home to a small town and it's been difficult to find like minds. It was wonderful to be able to interact with you and the other ladies. I signed up for the course as a 40th (yikes!) birthday present to myself and it was the best thing I've done in a LONG time." – Rebecca
"I just finished taking Kimberly Wilson's joi de vei e-course and literally feel like I have been shot out of a cannon. I can honestly say that my life will be better off because of Kimberly's e-course. Each podcast/vidcast contained a wealth of information, inspiration and encouragement beyond what was expected. Kimberly is a one-of-a-kind, gifted teacher who generously shares her "secrets" for living a well balanced and inspiration filled life. Kimberly's course truly pushed me forward in my life, my business, and my creativity. I cannot thank Kimberly enough for offering the goldmine of information that is contained in her e-course. From the bottom of my heart-THANK YOU KIMBERLY!!" – Stacey
"I can't thank you enough for this amazing course! I feel like a switch has been turned on again that has touched all aspects of my life and I thank you for shining the light to guide me. It has also been wonderful to be part of a community that is experiencing the same inspiration. I have learned so much I don't even know where to begin with a takeaway list… Taking the time for self care, art journaling, daily mediation and yoga, redoing my altar…it's all been beyond words! I find myself talking about our podcasts and OMwork to anyone I feel can benefit. This was exactly what I needed at exactly the right time. You are a truly inspiring teacher!"
"What an enlightening experience to recognize how much our everyday lives are empty of taking care of ourselves. I've so often felt guilt for spending time just on moi that I never thought about how much it can actually enhance not only my own happiness but the happiness of those around me." – Jessie
"This information is so important to me and my world. I sort of felt like I found a kindred in these ways. Certainly, you have a style and a gift for this work. It just truly inspires me to keep discovering my own creative mind, spirit, & body." – Amy
"The Tranquility Project was amazing! It opened my eyes to new layers of inspiration in my life. It's inspired me to be more mindful and to look at my life in a more connected way. It's inspired me to bring the sacred into my life on a regular basis through yoga and altars and so much more! If you are looking for a way to connect with yourself and with your life in a more mindful, tranquil and inspiring way this course is for you. These are tools that are totally doable and relevant on a regular basis." – Heather Shafer – Inspirationalist
[/spoiler]
[spoiler style="fancy" icon="chevron" title="Frequently Asked Questions"]
What should Iexpect in this e-course?
Oodles of how-to, inspiration, support, savvy sources, journal prompts, yoga poses, creative play, self-care exercises, entrepreneurial insights, and tips on living your life to the fullest – with flair and mindfulness, of course!
How techy do I need to be for the blog, podcasts, and videos? Not too techy. If you read blogs, can click on a link to the podcast and video, you should be good to go. However you do need to be able to sign up for a Google account to read the blog, and have some way to listen to the podcast (speakers on your computer, an iPod or iPhone syncing with iTunes, etc.). We offer tech support to help you work out any unique kinks.
I'm super-duper busy, how much time will it take each week? As much as you want to devote. I recommend 1-3 hours per week set aside to read the blog, watch the videos, listen to the podcasts, and do the hOMework.
What if I fall behind? It happens to the best of us. Don't worry, the private blog is up for a few weeks after the course ends and you can catch up at your leisure.
What tools do I need? A computer to check in on the private blog plus the additional items listed in the e-course description. Many are optional.
How can I fully prepare to ensure the most tranquil and productive experience? Put the e-course into your planner and make an artist date with yourself that is non-negotiable. Enjoy the journey. Honor your progress.
Do I get a goody if I complete all the hOMework on time? Some e-courses come with a TranquiliT piece or tranquility toolkit if all hOMework is completed. Others are priced lower and do not include a finale treat.
I'd prefer to work one on one with you regarding my particular dream or challenge versus in a group setting, is that possible? Absolutely. I offer mentoring to select clients as time permits. Peruse the scoop here.
What is the cancellation policy? Cancelation policy
[/spoiler]