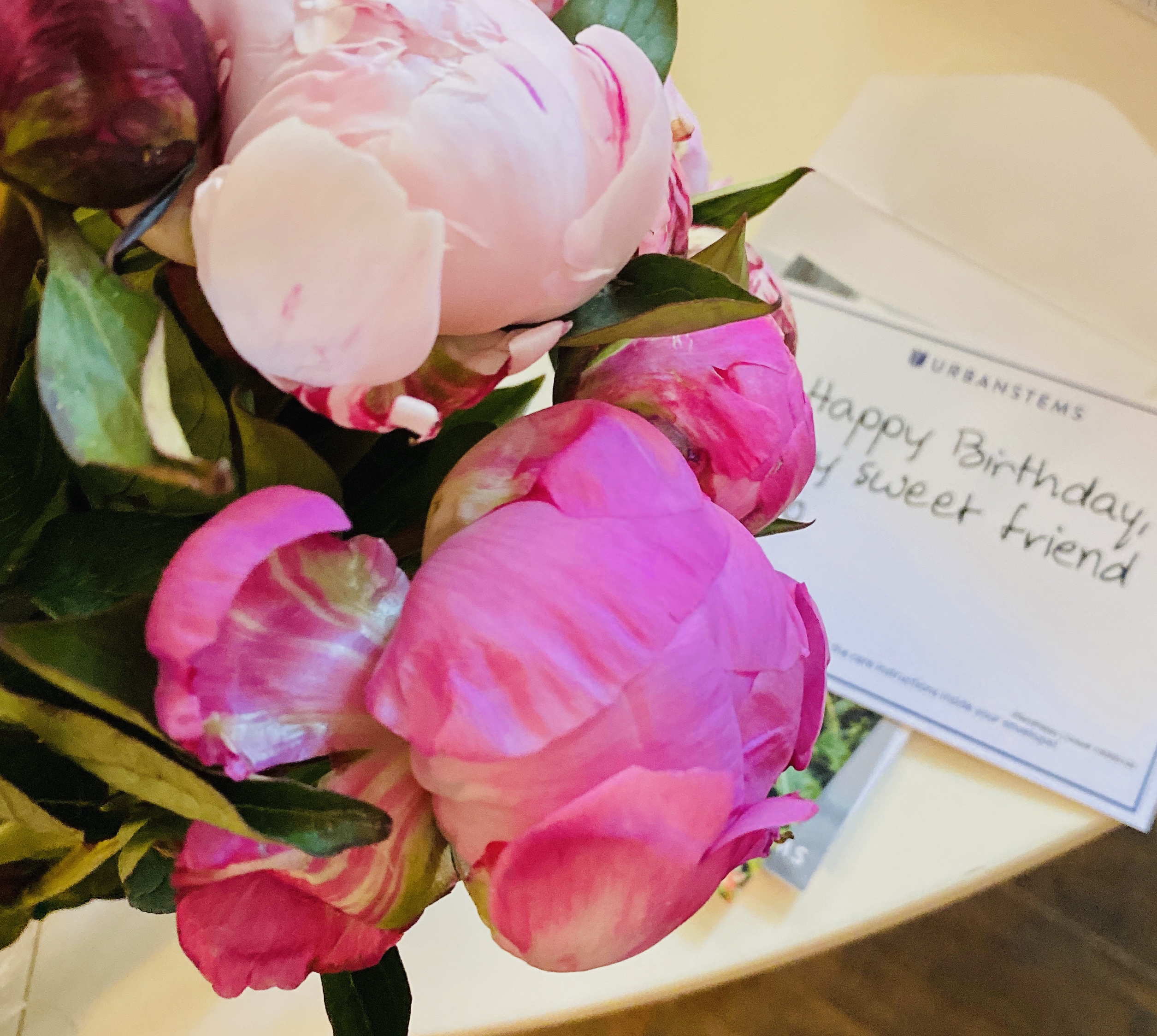 The past few days have been all about my June 30 birthday and I'm pretty sure Tim couldn't wait for July 1 to roll around.
Birthday celebrations began Friday with a pink vegan cake made by Tim (it didn't last 24 hours!), journal writing, and time with a dear friend on the Spanish Steps. Sitting under magnolias and oaks, we savored veg Udon soup and sweet matcha lattes from Teaism and caught up while socially distanced. That evening I slipped into pink ballet slippers for an online ballet class with a favorite encouraging teacher from NYC's Ballet Academy East.
I enjoyed a leisurely start on Saturday followed by an afternoon virtual hip hop class. Then I got ready for the evening's adventure: a private concert with Hidden Jazz Club from London (found on Airbnb experiences) with a few dear friends. I smiled the entire hour and soaked up their beautiful music. I miss live jazz and this experience stoked the fires. Seeing jazz in the flesh will be one of my first to-dos post-COVID.
With a post-jazz glow, we packed up the Jeep and pups to head 90 minutes to the nearest drive-in located in Stephens City, Virginia. During the drive we played Garth Brooks' greatest hits (I really milk this birthday thing). Upon arrival, we pulled into a spot near the back with a perfect view and awaited Garth's drive-in concert kickoff. Psst, here's a peek into my Garth obsession.
Sunday started with a jaunt to the farmers' market in Berkeley Springs, West Virginia to pick up cherries, strawberries, and rosemary artisanal bread. Before our next adventure, I took another online ballet class and then we packed up the car again to head to Barrel Oak Winery for the weekend finale. They're a dog-friendly winery with rolling hills, mountain vistas, and tasty wines.
For my birthday, I played 50 cent's In Da Club (sent by a dear friend via text) and as I raised my fist in the air while pseudo dancing, Mookie started barking uncontrollably (he's easily upset) and Tim just shook his head. I treated myself to a sensitive skin facial (my poor, poor skin—rosacea and eczema), had tea with a friend, took an online ballet class, spent time writing, FaceTimed with my parents, and had dinner at a favorite local Italian resto with Tim.
Whew, that's 47!
I felt spoiled, loved, and appreciated. I've never received so many flowers, cakes, or kind words. I'm now ready to launch into my 48th year with a full heart and intentionality. Wishing you a gorgeous launch into Q3 and the second half of 2020. Let's do this! Bisous. x