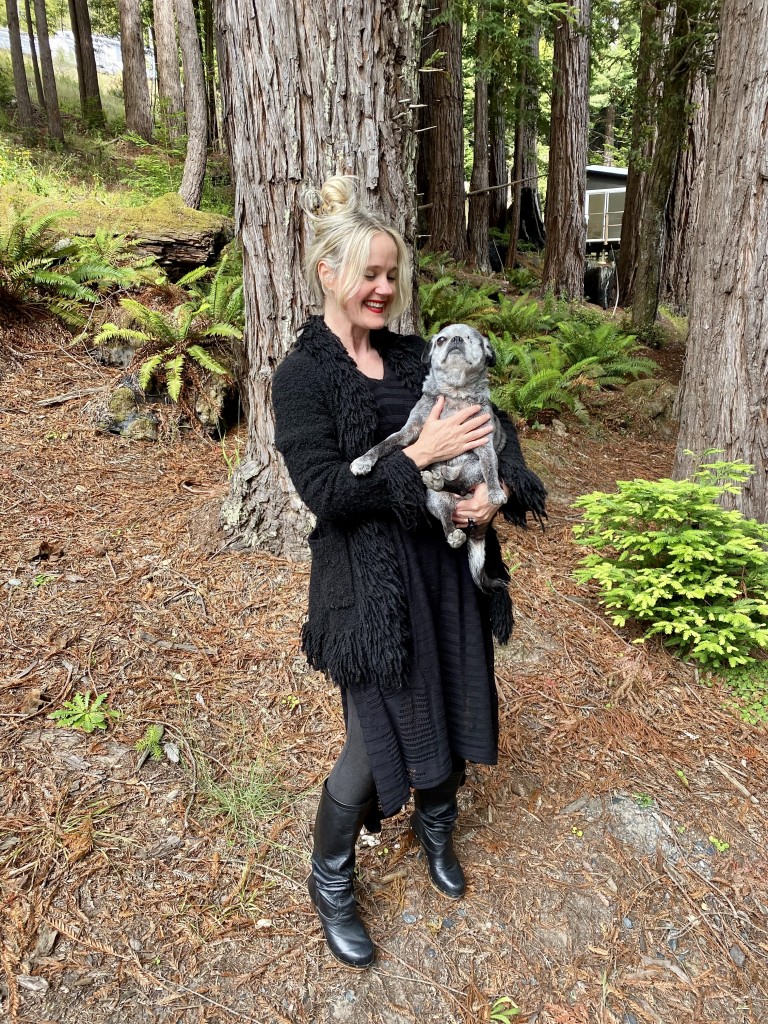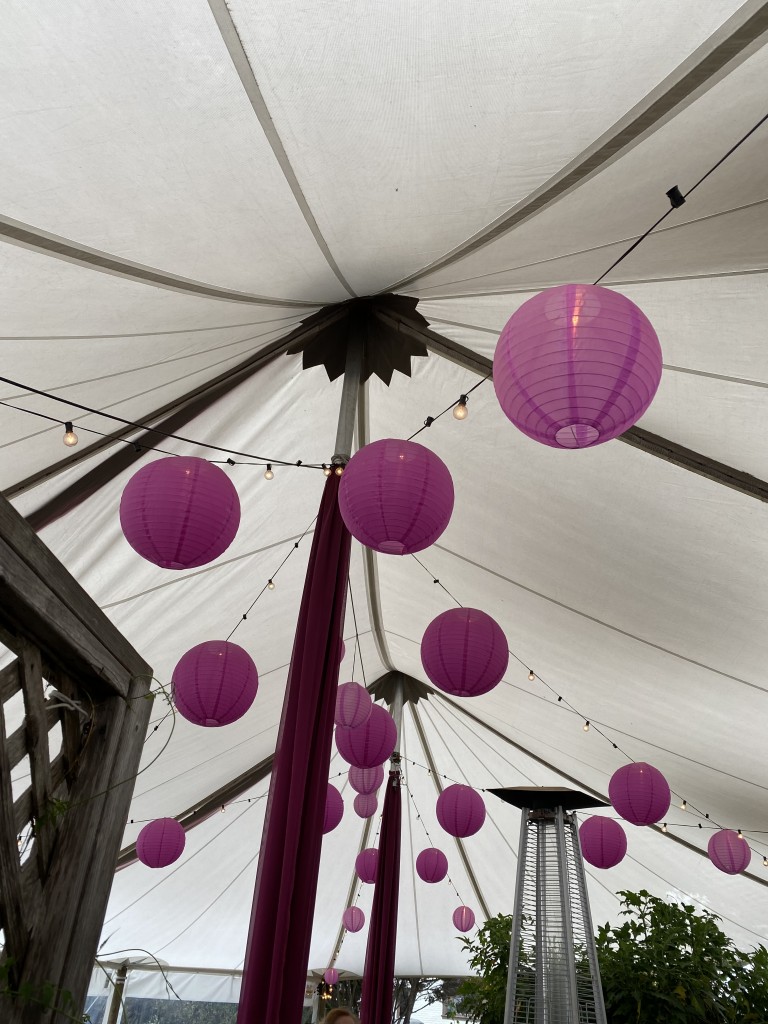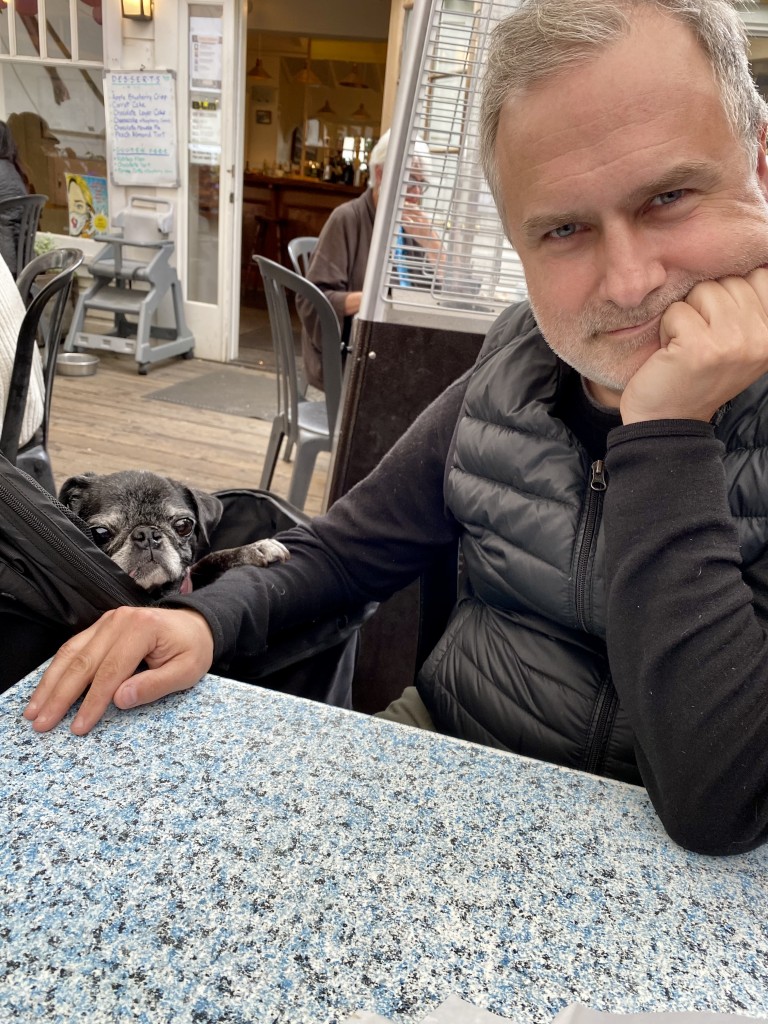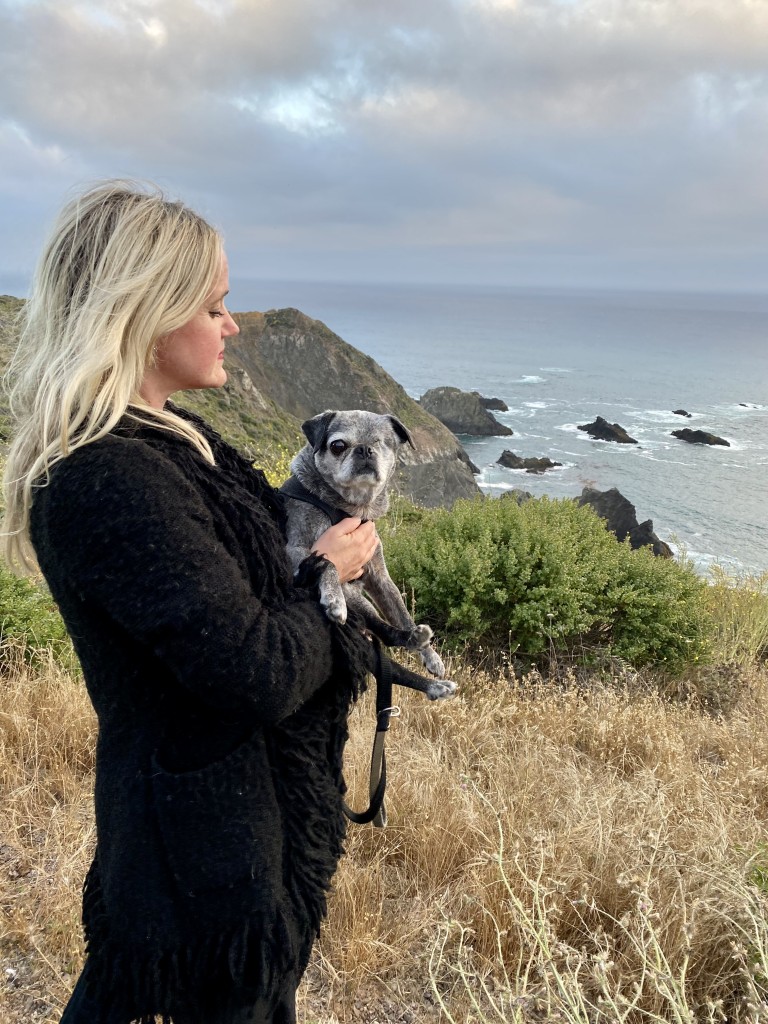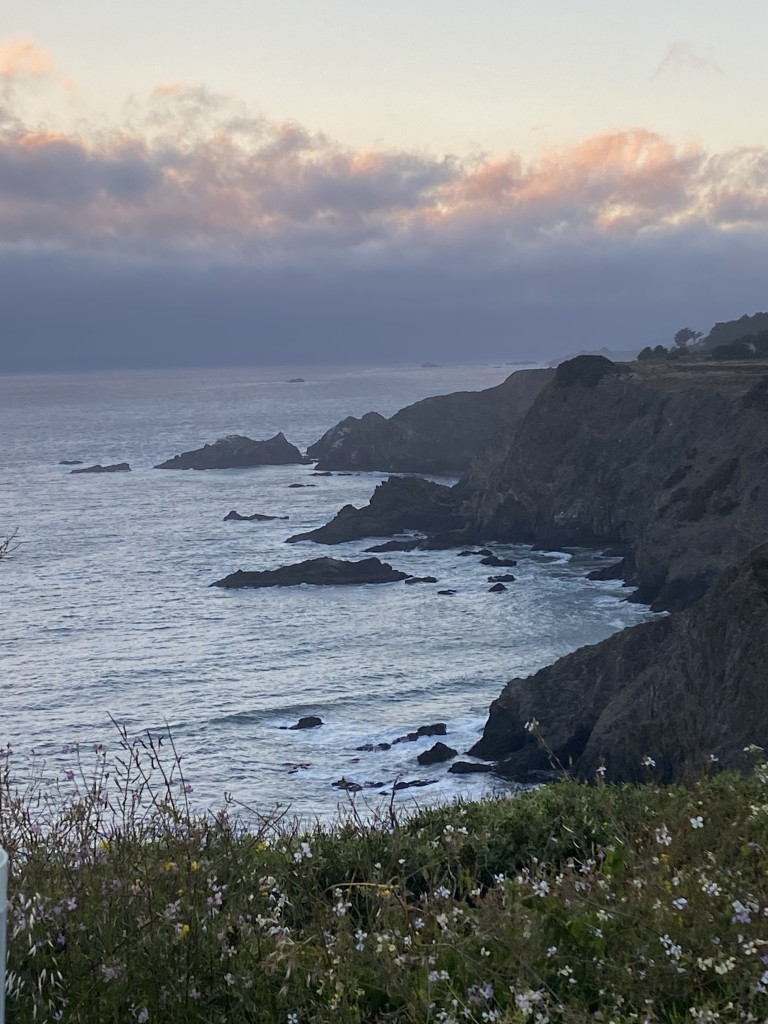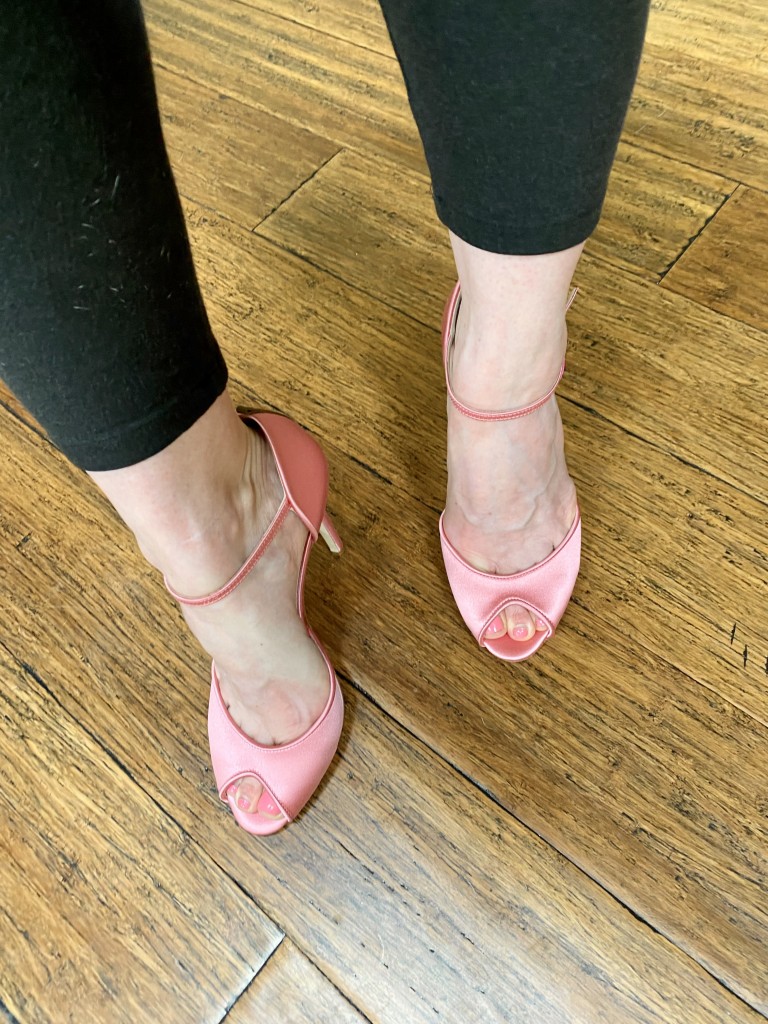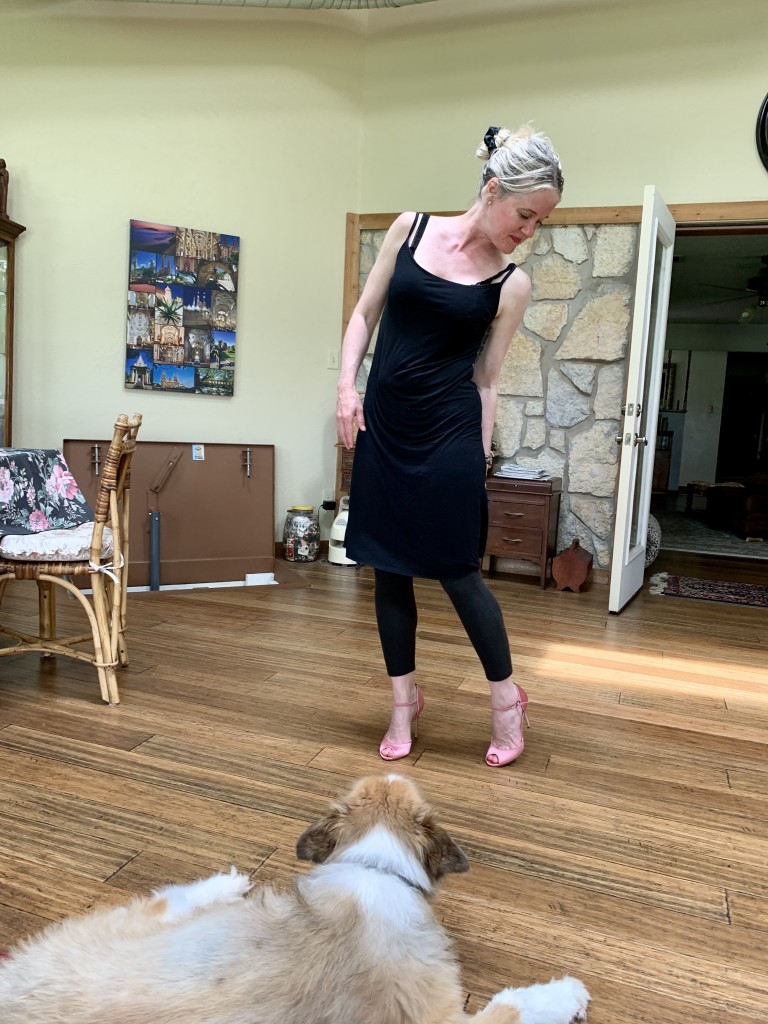 Last week was my 48th birthday and we celebrated it most of June with a focus on experiences—dinner, drinks, treats, friends, music.
On birthday eve we dined al fresco at Mendocino Cafe (second photo) decorated with paper lanterns and lights. I wore a crochet caftan I'd picked up at a local boutique over my 2in1 fitted and capri legging uniform (top photo) and felt fancy in a new dress.
Other than gifts, four books, and consumables such as a bag of Mediterranean Mint Smith tea and a rose candle from Elm Candle Bar, that caftan was my only trip purchase so it will have sweet memories.
During dinner, Belle kept pawing at Tim to get his attention so I snapped the above photo of her caught in the action. She just can't get enough of him.
When driving an hour back to our Airbnb with happy bellies, we stopped along the coast to take it in and captured two more shots shown above at dusk.
The night before we'd finished the Halston series on Netflix and it ended [spoiler alert] with a caption that Halston spent the last 18 months of his life driving along the California coast. I see why.
On my birthday we started our 26-hour drive to Oklahoma to pick up Mookie from Camp Grandparents. I mostly stared out the window for hours—California, Arizona, New Mexico, Texas—such stunning landscapes.
The pink satin SJP shoes shown above awaited me. I'd had my eye on them for weeks and was over the moon to meet this gift from Tim. Note the grey Gizmo hairs all over the leggings in the second to last photo and Mom captured my first steps in them in the last image.
We've just returned after a 20-hour drive from Oklahoma and I'm a bit buzzy, but happy. The five weeks were exhilarating and exhausting all rolled into one. I'll share more about the experience in this week's podcast.
In the interim, I wanted to share my birthday tradition in case you, too, would like a dose of mid-year reflection.
In 2005, I received this note from a friend:
Your birthday is your personal New Year's, and a chance to create for ourselves a starting point and period of reflection for the year past. So… Here's your assignment, should you choose to accept it:

1. Make a list of your accomplishments since your last birthday
2. Make a list of your goals for this year.
3. Write these lists in your journal, and save it someplace safe that you'll
refer to it again.
4. (optional) Share this information with others.
Ever since then, this has been my go-to process.
A few accomplishments since my last birthday include completing a first draft of my memoir, doing almost daily ballet classes, launching TDJ Passholder Collective, and taking a five-week road trip.
A few goals for this next year include submitting a book proposal, doing pointe work in ballet, getting to Paris, and eating more plants (less pizza) . . . to name a few.
On Saturday I'll be walking some of you through this process in our Mid-Year Virtual Retreat. If you're in the mood for reflection, movement, and creative play, I hope you'll join us. If you can't, I hope you'll go through this process on your own. It's powerful!
Thank you for your sweet notes of love last week. They made my day even more special. Wishing you space for reflection with a big cuppa iced tea in hand. Bisous.