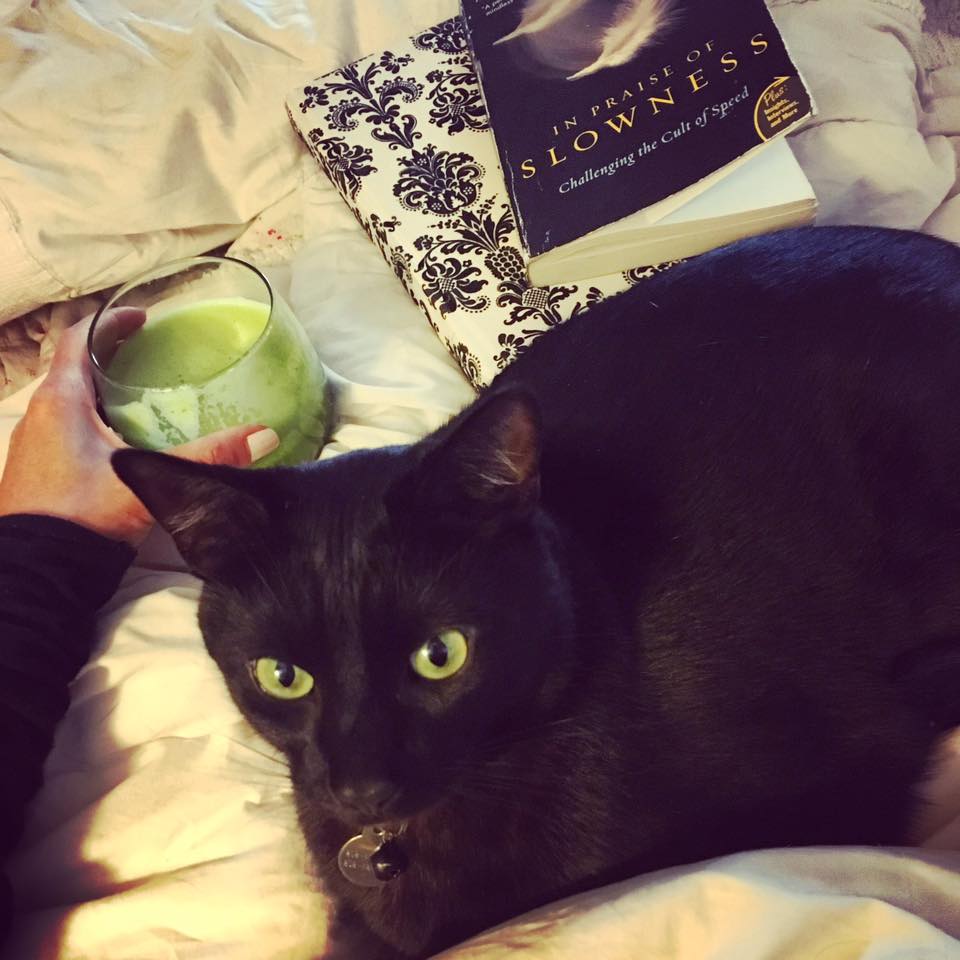 Sunday's slow start included a green juice, kitty, book, and journal.
I'm reading about slow living in prep for my upcoming virtual retreat and do find myself moving at a snail's pace as of late. Is the philosophy already rubbing off on me or am I simply lacking sugar? Hmmmm.
Other than a piece of melt-in-your-mouth caramel, I was fairly on track yesterday.
Breakfast was a green juice and a black bean tostada seasoned with nutritional yeast. Oh, okay, so the corn tortilla isn't allowed.
After spending the afternoon pecking away on our laptops, we headed out for a family walk with the pups followed by a jaunt sans pups for Chinese—kung pao tofu. Fried tofu probably isn't allowed and neither is the white rice, but boy was it good.
Snacks included clementines, walnuts, and lots of ginger tea (fresh ginger, two packets of crystallized lemon, spritz of stevia).
So, actually, I wasn't as on track yesterday as I'd thought. Green juice, check. Black beans, check. Corn tortillas, nope. Fried tofu, nope. White rice, nope. Caramel, nope.
Three days to go! And I still haven't had that cupcake. Think I'll celebrate the end of this with a trip to Sticky Fingers Bakery.
I ran into two yogis today who said they were enjoying these posts. I typically get the "you're so honest" or "that's how I always eat" response. I'm in awe of those who keep sugar to a minimum and eat mostly plants (not just pizza plus green smoothies and kale chips).
Mostly plants, as Michael Pollan recommends, is definitely a goal and this sliver of focus on food choices and cravings continues to be insightful. Bisous. x
---