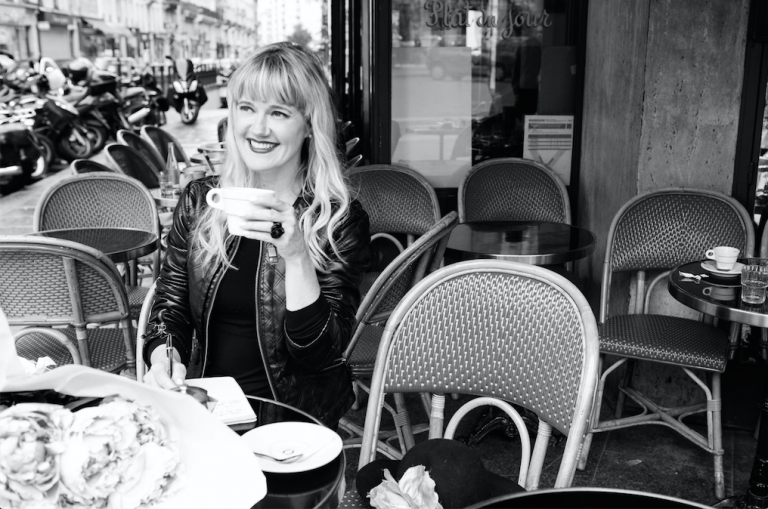 Give me books, French wine, fruit, fine weather and a little music played out of doors by somebody I do not know.—John Keats
When I returned to the studio and my downtown office this week, many asked, "How was your holiday?" I paused to consider—somehow it felt like the holiday had happened a long time ago.
Maybe it's because I taught a yoga class for charity on Thanksgiving, hosted two online events on Friday (Daybook Playshop for pre-orders and Holiday Tranquility on Facebook Live), and spent the weekend in HTC10 editing mode.
While this may sound a bit "woe is me," what I didn't mention is the way I interspersed these projects with simple pleasures.
After teaching on Thursday, I sat fireside and read before we headed downtown for a plant-based Thanksgiving meal and a French film. Before hosting the two online events Friday, I took in a yoga class and felt my body melt into the poses. After editing all day Saturday, we hosted a couple for dessert and drinks and chatted into the night about travels and our pets. On Sunday I took an editing break to walk through the woods with the pugs and bask in the fresh air.
Last night after a long, challenging day intensified by disrupted sleep, I slipped into the tub to soak before bed.
This holiday season will be over before we know it, so I'm planning to interject as many simple pleasures into the experience as possible. There will be: many cups of tea (she says as she sips her white peony tea), twinkle lights, fragrant trees, gratitude, love notes, time with loved ones, yoga, fireside chats, a celebration of Hip Tranquil Chick's 10th birthday, soaks in the tub, dabs of lavender oil, long walks with pugs, vegan cupcakes, bubbly.
If I can ensure the to-dos and challenges are braided with simple pleasures, the holiday hustle will subside and allow me to bask in the beauty of the season. I have a choice. And my plan is to keep these simple pleasures as important as the deadlines.
Wishing you a tranquil launch into the holidays. May they be filled with joy and a smattering of simple pleasures. Bisous. x
Save
Save