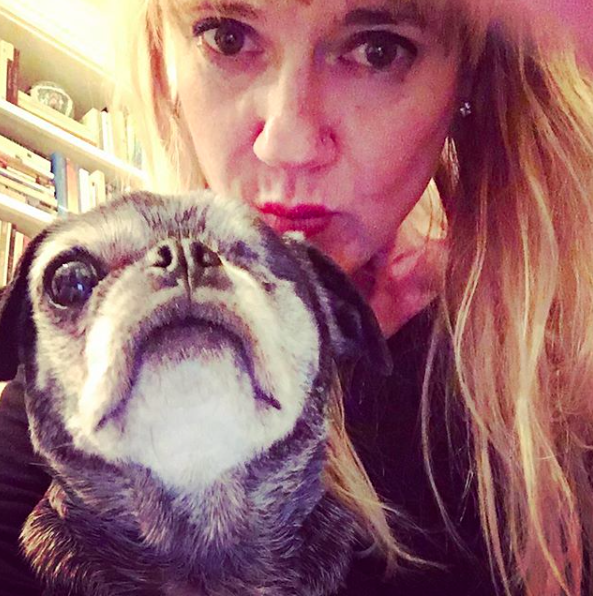 Adding Gizmo into the mix has been a whirlwind of emotions. We're so in love with him and incredibly protective already. What Gizmo wants, Gizmo gets.
Last night Tim showed me his new three dog feeding system. Mookie first because his bowl doesn't skid (has a rubber bottom) across the floor when he's eating and he gets twice as much food (he's nearly twice their size), so he takes longer to eat.
Next, Belle on the pink dog bed in the kitchen to keep her bowl from skidding as she eats.
And finally Gizmo gets fed in a bowl pressed up against a bin for leverage (aka no skidding), I laughed aloud. Really, this is our life?! A well thought out system to prevent skidding bowls.
We've all adjusted since last week's drama and are slowly settling into a routine that involves different walking schedules, equal attention allocation, various meds, and doctor's appointments. Honestly, I wouldn't have it any other way.
However, on Saturday we got sad news. Gizmo has cancer. He has a fatty mass that was thought to be benign. But after our vet ran a pathology report, we found that the large mass on his side is actually cancer. We have an appointment with a cancer surgeon specialist first thing Monday morning (their soonest opening) and look forward to exploring options.
My hope is that it's low grade and hasn't spread, of course. Either way, we'll do all we can to make sure he's happy and healthy as long as possible.
It's been a tough blow considering we're still mourning the loss of our beloved first-born, Louis, who died from brain cancer and madly in love with this guy. He truly is one of the sweetest dogs I've ever met. And, truth be told, I think he likes me more than Tim. Thank god!
Tim joked that I was going to keep adopting until I got a pug that liked me more! Belle is obsessed with Tim, I'm mostly chopped liver despite flooding her with love (and cute clothes). And Mookie, well he's in his own very special world. Same with Jackson the cat.
Gizmo caught my attention on Homeward Bound's Instagram account in November and I kept sending his photo to Tim and Mom. Finally I broke them down to at least coordinate a meeting with him. (Pssst, I have a formula in case you're interested!).
The rest is history. He now sleeps in our bed and we're head over heels for this one-eyed, 10-year-old boy who walks like a crab and snores like an old man.
I clearly fell in love with Gizmo on Instagram for a reason. Truly gaga for Gizmo.  Bisous. x