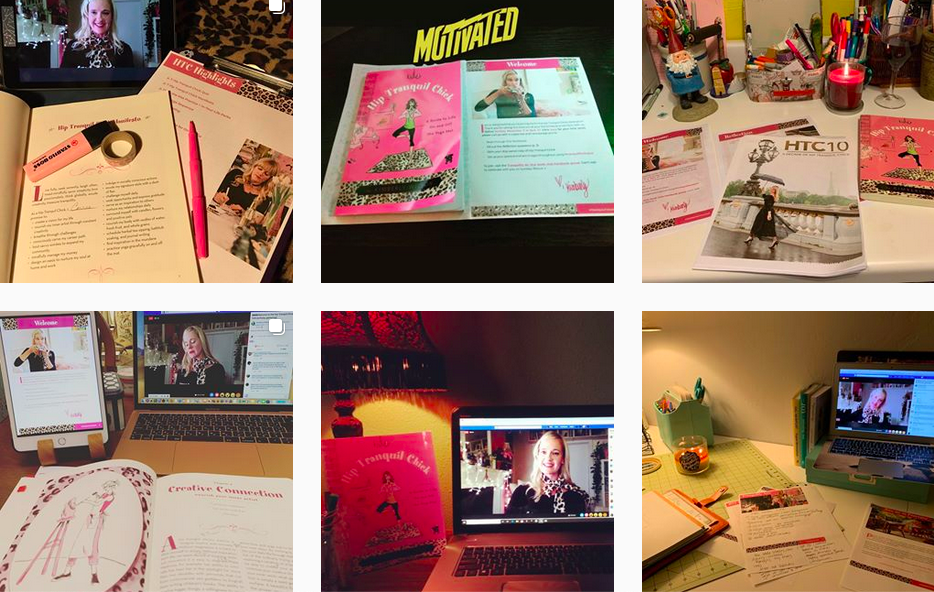 Thank you SO much for joining me last night to celebrate Hip Tranquil Chick's 13th birthday. Whew, what a journey we've been on and there's no one I'd rather have with me!
Above are some photos from last night's gathering. The hour flew by as we reviewed the HTC definition of hip, tranquil, and chick (p. 2) and the manifesto (p. 7).
The replay is now available on the Tranquility du Jour book club Facebook group and will be on YouTube tomorrow.
Based on the survey feedback of where you need support, I shared a variety of highlights from the book:
Clarifying dreams pp. 62-65
Self-care practices pp. 76-77
Contemplating career shifts p. 109
Managing finances p. 120
Signature style p. 138
Home environment p. 143
When HTC released in 2006, I was a 33-year-old, self-employed yoga studio owner, in love with a non-profit attorney (Tim), and a pet parent. I dreamed of taking our newly formed non-profit, Tranquil Space Foundation, globally. HTC was my coming out as an author, lover of pink and leopard-print, and a proponent of kitten heels (now I love Swedish clogs). My vision was to spread the message that yoga wasn't just poses on a sticky mat, but what I don't know what that my life would become much more than yoga.
SO much change in the past 13 years: First black president, major party nominates a female candidate, marriage equality and growing awareness of non-binary people, plant-based meats everywhere (hello, Impossible Whopper), signed a two million dollar lease to grow Tranquil Space, biggest economic crash since Great Depression, had two surgeries to repair injuries, fed street dogs and cows in India, lost Louis the pug, lost Gramma, sold Tranquil Space, stopped teaching regular yoga classes, transitioned non-profit to Pigs & Pugs Project, launched my psychotherapy private practice, adopted three rescue pugs. Now my mission is to help women find more tranquility within their full (ahem, busy) lives.
Topics that I would add or go deeper into now (based on your survey response and my passions) are:
time management
entrepreneurship
minimalism
social media management
climate change
mental health
animal rights
The main lessons I've learned and continue to learn since HTC:
let go (goodbyes are necessary and when you can no longer show up as your best self, release), reinvention is key (transitions are hard and powerful), less is more (except when it comes to books and clogs), compassion is the new black (animals), appreciate simple pleasures, manage energy (HSP/INFJ), thoughts are not reality (positive = Teflon, negative = Velcro, and aging with ease.
I'm grateful for the ongoing evolution and especially grateful to you for being here with me. Merci and bisous. x
Pssst, the Daybook giveaway winner is @silvertoez. Congrats, Carrie and thank you for your ongoing support!