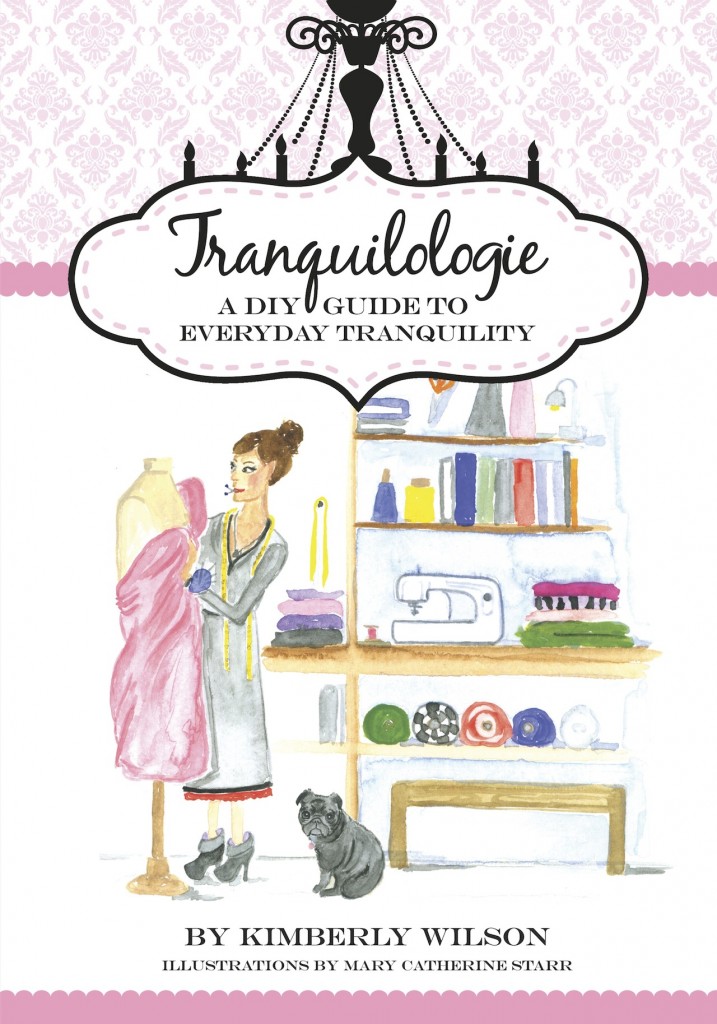 Tranquilologie is the study of living tranquility with joie de vivre.
This do-it-yourself field guide takes you from January through December with doses of inspiration covering eight topics –mindfulness, self-care, nesting, do-gooding, work, style, creativity, dreams–in a nouveau way each month.
Learn to create homemade gifts, get grounded in an instant, practice restorative, yin and vinyasa yoga, accessorize, craft your bucket list, start a women's group, art journal, clear clutter, shop mindfully, and more.
Tranquilologie involves being mindful in the moment, relishing simple pleasures, exploring minimalism, getting crafty, and creating extraordinary everyday experiences.
Inside each month's feature you'll find eight insightful essays including how-tos, "Savvy Sources" to inspire further exploration, signature "OMwork" to tie a bow around the month's journey, inspiring quotes peppered throughout, and checklists to help you stay on the tranquility track.
To enhance your visual journey, artist Mary Catherine Starr sprinkles each of the 96 essays with whimsical watercolors. Tranquilologie is about living with exuberance, passion, and tranquility–every day of the year.
Place this art-filled book on your bedside table next to a scented candle and cuppa tea (or flute of bubbly). Use it in collaboration with your personalized Tranquility du Jour Daybook to truly live tranquility each and every day. Read each chapter as the month begins or pick it up as the need for inspiration hits anywhere in between, ideally with jazz serenading in the background.
Available in Second Edition softcover ($28 plus shipping and handling), Kindle or PDF ($19).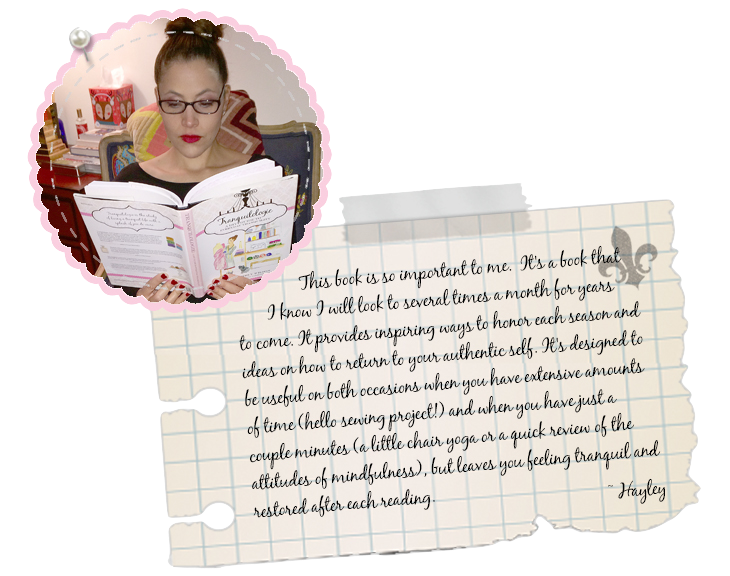 "I love this book! Tranquilologie is chock-full of ideas that inspire, and small, simple actions you can take every day to make your life more beautiful and more creative. Don't wait until January! Pick your favorite month of the year and start right now." –Lisa Sonora Beam, artist and author of The Creative Entrepreneur, and A Cartography of Higher Purpose
"Kimberly Wilson is like a seriously stylish good fairy who not only encourages you to live your best life but more importantly shows you how. Her enthusiasm for all facets of self-care is utterly infectious and every page of this book holds beautifully simple ideas every woman can incorporate into her daily life. I'm already planning my next Bed Day!" –Susannah Conway, author of This I Know: Notes on Unraveling the Heart
"Kimberly Wilson has done it again. This new book gives you exciting adventures for each month that will soothe your body, mind, and spirit, whether it is a yoga pose, a recipe, or a delightful self-indulgence. Reading it makes you feel joyful and inspired to get out of your rut, and experiment with delights. Kimberly also has a practical side and helps you to de-clutter your mind and your nest, as well as overhaul your wardrobe, for example. Each page is full of surprises and her warmth and joie de vivre shines through every word. Kimberly is a creativity trailblazer of our time! You will love this book!"–Gail McMeekin, author of The 12 Secrets of Highly Creative Women, The 12 Secrets of Highly Successful Women, and the Creativity Courage Cards
"This delightful guide is the recipe book for your best year ever, repeatable annually to give you a just about perfect life. It's a treat to read and a glorious adventure to put into practice."–Victoria Moran, author of Creating a Charmed Life
"What a tranquil reminder of how to create a beautiful life that is true to your soul. Kimberly covers it all with panache and deep love." –Jennifer Louden, author of The Woman's Comfort Book and The Life Organizer
"Kimberly's book is packed with tips for recharging and getting more done. If you try even half of her ideas, next year will be your best — and most relaxed — year yet."–Laura Vanderkam, Author, 168 Hours and What the Most Successful People Do Ebook series
"I have been a huge fan of Kimberly Wilson for many years, and am thrilled that I will now have such a lovely bit of her sparkle and inspiration right at my bedside. This book is quickly going to become marked up, underlined, page corners folded and well-worn – a treasure to enjoy all year long." –Christine Mason Miller, author of Desire to Inspire
"Tranquilologie is full of tips and tools that will inspire and motivate you. It's a practical guide and a wonderful read. I loved every word!" –Tammy Strobel, author of You Can Buy Happiness (and it's Cheap)
"Tranquilologie: a DIY Guide to Everyday Tranquility is filled with accessible practices that will connect you with this moment while also giving you beautiful invitations to practice deep self-care. Though the book is created to be read monthly, beginning in January, you could turn to any section at any time of year and be deeply inspired to live your more creative, tranquil life. Kimberly's sense of humor, wisdom, and joie de vivre are your companion on every page. So excited to have this book as part of my creative self-care toolbox!" –Liz Lamoreux, author of Inner Excavation
"Tranquilologie captures Kimberly Wilson's have fun, do good spirit. Even though the book is meant to be used over the course of a year, after reading it, you'll come away with many years of creative and inspiring ideas to take care of yourself, and give back to the world."–Brit Bravo, Have Fun * Do Good & Big Vision Consulting
"Kimberly Wilson's Tranquilologie is an entertaining, super practical guide to bringing more serene and joyful moments into your daily life. I love Kimberly's unique and fun approach to mindfulness, self-care, and creating a beautiful life." –Tara Mohr, taramohr.com
"I looked forward to each month of Tranquilologie as much as a phone date with my best friend. Kimberly writes as a dear friend that wants nothing more than for you to reach your highest potential: from sewing to visual journaling, from blogging to public speaking, from eating mindfully to volunteering, there were delicious morsels of information to savor at every turn of the page. 2012 was my best year yet, in no small part thanks to Tranquilologie! I was inspired to launch a skin care blog for my business, complete my most massive closet clean out EVER, create a mindful budget, commit to a more regular yoga and meditation practice, and experience an incredible journey to France with my mom. I am so excited to review Tranquilologie again this year, who knows, this year may be even better than the last. There is no bow left untied and delicious morsels for everyone to savor. Thank You Kimberly!"–Kristin Akins, Skin Therapist and Owner of Pelle Sana Salon
"At the beginning of each month I waited in anticipation for Kimberly's insight. It was like opening a present . . . a gift each month for me to create, connect with my Self and regroup around the things that really matter to me. As I look back on my experience, I find that I have incorporated a lot of our OMwork into my daily life and I've become much more mindful of how to find the sparkle in each day. I'd encourage everyone to make the investment in those precious moments of "you" time and Kimberly is the perfect guide."– Rebecca Nicely
"The original Tranquilista, Kimberly Wilson, provides a monthly toolkit to inspire in key life areas such as home, work, do-gooding and style. Bursting with inspiration, Kimberly taps in to the busy gals world and offers fun play, mini projects and a kick-start to morning and evening rituals. OMWork and Savvy Sources provide the nudge for further exploration, alongside motivating water-color images, that enhance the Tranquilologie journey. As a metaphorical juggler, this process has equipped me to pause, review, plan and implement tranquil changes to enhance my day-to-day life. Kimberly . . . thank you!"–Alison Day
"Tranquilogie is full of inspiration for so many areas of our lives. There was not a month that went by where I was not inspired in some way to be more mindful, creative and in tune with what I wanted in my life. Kimberly always has a way to keep it fresh, inspiring and full of sparkle month after month. These are not just one time tools they are things you can use for life! It's full of doable, wonderful and tranquil tips, food for thought and beautiful artwork. In fact I loved it so much a group of us are starting over from the beginning of the year and going on this journey together again. I simply adored it and can't wait to soak it in over and over."–Heather Shafer, Life Coach