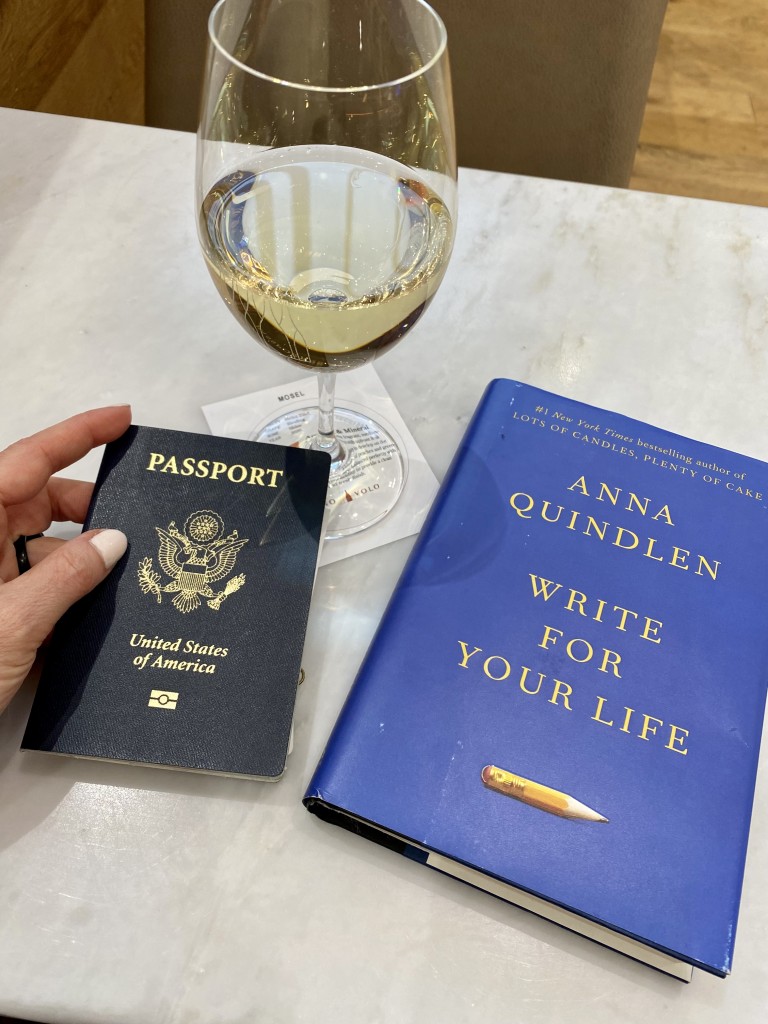 A spot opened in a women's Paris writing retreat in June and I was first on the waitlist, so I took it as a sign to go for it (despite having already booked an April adventure) and joined.
I planned to devote time to editing the second draft of my memoir in my favorite city AND attend a Marie Antoinette ballet happening at Versailles over the same weekend. With a few clicks, I secured a second flight to the City of Light this spring with visions of sitting in cafes and working through 200 pages of edits.
Best laid plans. The truth is that I did no writing during this latest trip (somehow writing time turned into social time) and I got sick twice.
See that pretty glass of wine in the first photo? It's a yummy Riesling from Heinz Eifel in Mosel, Germany. Absolutely delicious. Somehow I thought it would be a good idea to "treat" myself to two glasses before a long haul flight.
Note to self, never ever do that again.
After sitting upright for nearly eight hours as we crossed the Atlantic overnight, I developed an unforgiving migraine that left me horizontal for my first few hours in Paris.
Then, thanks to food poisoning from tasty vegetables on a Seine dinner cruise, I spent my last night heaving into a porcelain bowl.
A few hours later, in my sick belly hangover haze, I booked a ride to Charles de Gaulle Étoile (metro station). As we drove toward the Arch de Triomphe I commented how I'd never passed the monument going to the airport. Then the driver pulled over and I thought it was to get a good photo (shown below). Instead he said, "Here you go!"
That's when I realized my error and rebooked him to the Charles de Gaulle Aéroport. Oh my!
Despite these challenges, I relished in sensory experiences: eating Laduree macarons and Nina's cake in the Tuileries, enjoying jazz at 38 Riv, seeing the ballet, finding Swan Lake tea at Mariage Freres, savoring lemon sorbet as the sun set on Rue de Rivoli, sipping thé vert à la menthe (green tea with mint) in Luxembourg Gardens, visiting the Rodin museum again (celebrated my 40th there), taking in the Dior museum where I purchased 25 gold trimmed postcards (fun giveaway coming shortly), playing pétanque.
Although I have zero athletic ability, I somehow found a bit of skill (and playful competitive spirit) with pétanque (note the joy in the photo below).
Even with sick bellies, migraines, and jet lag, Paris still soothes the soul. She's like a decadent piece of pink cake covered with strawberries and sprinkles that you just can't get enough of.
I'll share more on next week's podcast. Thanks for traveling along with me! Until next time. Bisous. x
Links to Explore
My Paris Faves
June in Paris Podcast
April in Paris
A Peek into Paris
Paris in November
Tea with Kimberly video: Time in Paris