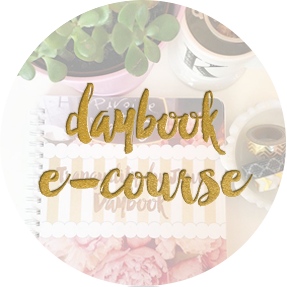 The Daybook e-course walks you through my favorite tools for tranquility in every day using a planner system (the Daybook or your own).
Learn how to set your week up for success, craft your month's dreams, personalize your planner, art journal on blank pages, create your own 30-day challenge, and more.
This e-course is chock-full of downloadable PDFs, how-to mp3s, videos, resources, and 8 brand NEW Seasonal Tranquility Tools—shown in the 4.0 edition and applicable to all editions, including your own planner.
Infuse your days with creativity and productivity.
Investment: $39, lifetime access
What You'll Learn
Grab a cuppa tea, markers, and your Daybook or other favorite planner. At your own pace explore ways to:
[row] [column size="1/2″]
set up your week for success (video)
determine your month's dreams (audio)
review your month's accomplishments (audio)
balance your budget monthly (audio)
create and track your wellness plan (audio)
incorporate the 24 Tranquility Tools into your life (audio)
set up your own 30-day tranquility challenge (audio)
prepare for travel seamlessly (audio)
create your capsule wardrobe (video)
intentionally pen your Year's Dreams (video)
review your year's experiences (video)
[/column] [column size="1/2″]
write your own manifesto (audio)
add ephemera to personalize your planner (video)
my go-to ephemera sources
create your own Savvy Sources list and hear snippets from the eight I listed and why (audio)
track your time to determine how your 168 hours are spent (audio)
create an ideal usage for your 168 hours (audio)
art journal and play on your blank inspiration pages (video)
try Meatless Monday, get plenty of protein, and feel energized (audio)
incorporate my new 8 seasonal Tranquility Tools, including the Wheel of Life (audio)
[/column] [/row]
Testimonials:
Loving the e-course videos! Quite addictive. Tim did a great job editing, love the new fun music too.
I am loving the Daybook e-course. It's beautifully done Kimberly!
Today this e-course literally saved me from a panic attack. It's so soothing and pretty and familiar. I just wanted you to know you touch lives especially mine in ways you can't even imagine. Thank you from the bottom of my heart.
Save