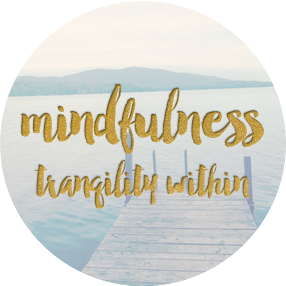 Join Kimberly, a trained Mindfulness-Bases Stress Reduction teacher, for an enlightening exploration of mindful living for the girl on-the-go. As defined by Jon Kabat-Zinn, mindfulness is "paying attention in a particular way: on purpose, in the present moment, and non-judgmentally."
A yoga teacher since 1999 and a student of mindfulness for many years, Kimberly's passion for incorporating it into daily life is infectious. This e-course shares practices and theories to help connect you to the source of tranquility within.
The lessons will show you how to develop a deeper connection to yourself, others, and the world at large. Learn tips for reducing reactivity, focusing, reducing anxiety, making friends with uncertainty, and increasing contentment.
This e-course includes access to modules covering the oodles of mindfulness tranquility topics below PLUS interviews with mindfulness experts, downloadable worksheets, and instructional audio and videos (including mindful yoga, meditation, mindful breathing, mindful eating, and more).
Studies show that mindfulness practice has many benefits ranging from stress reduction, to better focus, to less emotional reactivity, to enhanced well-being.
Give yourself this space to infuse mindfulness into your daily life while developing better self-understanding and skills that will last a lifetime.
Slow down, tune in, and find a sense of tranquility within.
Tranquility Topics:
Formal practice
Mindful yoga
Living a meaningful life
Benefits of meditation
Loving-kindness practice
Tonglen practice
Tranquility tools
Anxiety and stress-reduction
Relaxing body scans
Walking meditation
Mindful eating
Enhance focus
Informal practices
How to pay attention
Develop compassion
Increase connection to the world around you
Become less reactive
Make friends with uncertainty
Increase self-acceptance
Compassionate communication
Mindful breathing
Materials needed:
Internet access
Blank journal
Yoga mat
Meditation cushion and/or blanket
Pens and/or pencils
Investment: $59
This e-course has open enrollment and lifetime access.