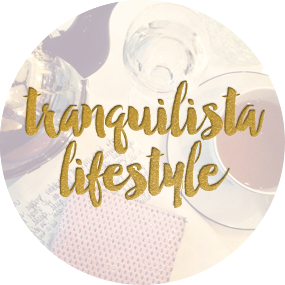 Join Kimberly for a 6-part e-course focusing on the main modules outlined in her second book, Tranquilista: Mastering the Art of Enlightened Work and Mindful Play.
This course is fulled with tools for reflection, artistic play dates with your visual journal, and big dreams. It also gives you lifetime access to Tranquilista Lifestyle musings and podcasts by Kimberly, along with video tutorials to help bring the experience to life.
Each session highlights ways to shape your world with spirituality, aspirations, do-gooding, creativity, style, and entrepreneurship.
To deepen the experience, you are encouraged to commit to a daily spiritual practice such as yoga, running, meditation, prayer, or nature walks – whatever resonates most with you.
No previous art, entrepreneurship, or yoga experience needed.
Topics:
[column size="1-3″ last="0″ style="0″]
mindfulness
journaling
meditation
8 limbs of yoga
yogic breathing
setting goals
action steps
reflection
vision boards
making a difference
launching a nonprofit
hosting a charitea soiree
[/column]
[column size="1-3″ last="0″ style="0″]
speaking
writing
marketing
teaching
social media
promotions
launch a product
hiring
training
management
diversification
[/column]
[column size="1-3″ last="2″ style="0″]
artist dates
modes of creativity
ways to induce creativity
personal style
bed days
travel
home style
communication
daily routine
exercise
business start up
branding
time and to-do management
[/column]
Materials needed:
yoga mat
colorful pens and/or pencils
scissors
glue stick
Optional:
acrylic paint
paint brush
stamps
digital camera/camera phone
Investment:$79
Lifetime access, complete at your own pace.
[spoiler title="Read Testimonials" open="0″ style="1″]
"First, please accept my great thanks for presenting such a gift in this course. I've had such great moments of clarity and also some really difficult and challenging ones too, but all moving me closer to my truth and understanding what I really want in my life." – Lorien
"The Tranquilista joie de vivre e-course has been an absolute joy, and I have been challenged in so many ways. I am amazed to look back through the pages of my visual journal and see how much I have grown these past few weeks. The course material is of high quality, has really valuable content, and mixes podcasts, video and blog posts to appeal to all learning styles. I would very much recommend the course." – Nat
"In the Tranquilista ecourse, I created a visual journal, had fun with my personal style, generated action items for a business idea and interacted with a group of talented ladies on the course blog. Kimberly Wilson is an excellent teacher with a flair for fun. I highly recommend this course." – Jennifer
"I truly enjoyed your Tranquilista joie de vivre e-course. Through your creative posts, podcasts, videos and other special treats and surprises along the way, you kept my attention and continued to inspire me just when I thought I couldn't be motivated even a bit more. And this life-changing journey took place from the comfort of my home, allowing me to soar with my dreams whilst in my jammies and a tiara. A truly delightful experience! Sign me up for the next course!" – Denise
"This is the third ecourse I have registered for with Kimberly. Each podcast in each course to me feels as soothing as a warm bath on a cold winter's day. I end each course with some sadness that it is over but with oodles of tangible takeaways that enable me to inject my life both at home and at work with more tranquility, style and authenticity. Can't wait for the next ecourse! Thank you Kimberly for being uniquely you!" – Amy
[/spoiler]