Tranquility in Tuscany
Join me for a mid-summer week-long yoga, creativity, and mindfulness retreat. Unwind, restore, and reflect while nurturing your creative spirit.
Our experience begins with intention setting in our opening circle Sunday morning and ends with a heart-centered closing circle on Friday evening.

Indulge in daily yoga and mindfulness practices coupled with art journaling creativity sessions. No art experience necessary, simply a willingness to play and explore. Basic yoga understanding will make the practices more enjoyable and I will provide modifications and variations to accommodate all levels.

Dine on regional, vegetarian cuisine, and sip local wines.

Our journey includes a Puccini Opera in Lucca, a day trip to stunning Cinque Terre, and a salt-water swimming pool.

This retreat nourishes your creative side, exposes you to the stunning Tuscan hills, and beckons you to slow down and listen deep within.

Enjoy ample downtime for napping, painting, soaking in a Turkish sauna, writing, hiking, and reading poolside. Savor optional spa treatments or excursions.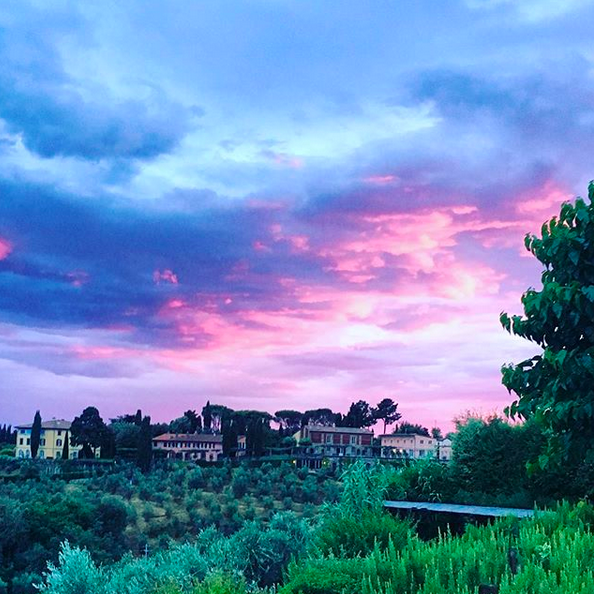 Accommodations
*Double Room: 2 Twin Beds with Shared Hallway Bathroom: $2745 per person
*Double Room: 2 Twin Beds with Private Bathroom: $2995 per person
*Double Room: Double Bed with Private Bathroom: $2995
Single Room: Single Bed with Private Bathroom. $3395
*Double room prices are listed per person. Participants have the option of a twin or shared double bed and a shared or private bathroom. Doubles can be converted to single occupancy for an additional $999.
Retreat Tuition
$2745 – $3395 depending on your preferred accommodation. If registering after April 1, 2022, full payment is due at that time. Please refer to our cancellation policy for international retreats. We'll begin taking deposits to hold spots soon.
Cancellation Policy
If you need to cancel for any reason, no refunds, transfers or credits are available unless your spot is filled from the waiting list. If someone is available to take your spot, you may choose a refund, exchange, or credit minus the $500 deposit. If nobody is available to take your spot, no refunds, transfers or credits are available. You may transfer your spot to a loved one at no cost by emailing us to adjust the registration.
Travel Insurance
We recommend that international retreaters take out travel insurance in case of any life situation that may alter your plans. You may consider plans from travelinsure.com, insuremytrip.com, or any other option provided by your credit card, airline or travel company. Also note that your health insurance may not provide coverage internationally. Check with your provider and consider additional coverage if necessary.
Learn More
Want to be the first to know more about this escape? Click below to be added to the first-to-know list.