Berkeley County, West Virginia
October 20-22, 2017

Spend a weekend practicing yoga, writing, and slowing down while enveloped in peak fall foliage near Berkeley Springs, West Virginia.
This tranquility-filled weekend is for the writing curious to the journaler to the published author. Practice yoga, meditate, pen responses to writing prompts, learn inspiring writing tools, and explore your voice in a safe setting.
Nurture your creative spirit this fall through an escape into the woods: read in a hammock under the foliage, savor vegan s'mores over a campfire, sit by a roaring fire while penning prose, commune with nature.
You will leave inspired with a writing action plan, a belly full of homemade vegetarian meals and organic tea, and connections with like-hearted women.
This retreat's for you if: you write, journal, blog, or doodle, want to share your experiences or dreams with the world, want to explore your authentic voice, like to learn new tips to increase writing in your life, or long to dabble in writing while doing yoga and meditating in the woods.
For those seeking adventure, we're located next to the Sleepy Creek Wildlife Management Area with 75 miles of hiking trails nearby. For those seeking restoration, you'll find a rejuvenating spa, heated pool, and whirlpool within walking distance.
Upon registration you will receive directions, packing list, and more.
Space is limited, early registration encouraged.
Schedule:
Friday: 6pm dinner and mingling upon arrival, 7pm opening circle and yoga
Saturday: 9am silent breakfast, 10am yoga and module, 1pm lunch, 2pm downtime, 6pm dinner, 7pm module and campfire
Sunday: 9am silent breakfast, 10am yoga and module, 1pm lunch, 2pm departure
Modules Include: Three all-level yoga and meditation practices, writing practices and tools, and creating an action plan.
Investment: $525 includes meals, modules, lodging, tranquility-filled goody bag.
Lodging: All rooms are double occupancy (two per room) in a four-bedroom cabin with private bathrooms, fireplace, and a full kitchen.
Amenities: Miles of hiking trails, heated swimming pools, a whirlpool, tennis courts, exercise facility and full-service spa at the beautiful Woods Resort near Hedgesville, WV.
Travel: Transportation is on your own. Less than two hours from Washington, DC.
I'm a therapist, author of five books, and have led retreats for nearly 15 years. I offer a safe space to explore the writing practice through regular Writing Labs at Tranquil Space, Penning in Paris, and Writing in the Woods retreats. I'd be honored to be your guide in the transformative process of putting pen on paper.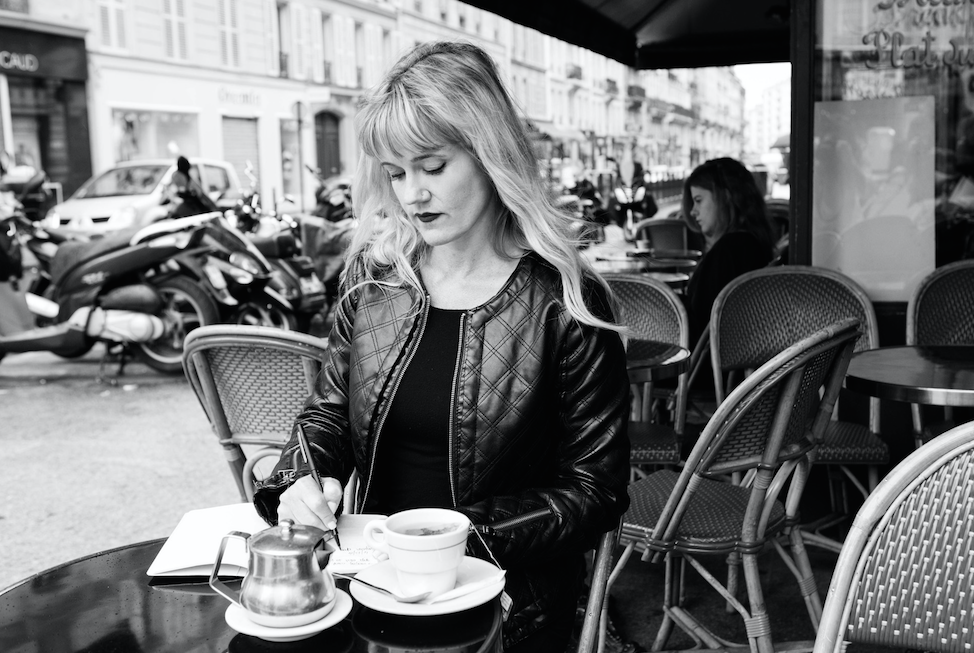 [ttfmp_woocomerce_product_grid columns="3″ type="all" taxonomy="tag_wv-fall" sortby="menu_order" count="1″ thumb="1″ rating="1″ price="1″ addcart="1″]
Testimonials
Thanks again for organizing such a special weekend for us! We all feel so inspired to continue the good energy and learning. It was nice to foster new friendships too amidst such a serene and restorative setting created by Kimberly and Tim.—Monika 
I wanted to thank you, but I'm not sure I have the words. The weekend of learning, opening, and support you facilitated and created was such a gift. The women that are drawn to you are a beautiful refection of who you are, all so lovely. The experience opened me and allowed me to be brave in a very safe environment.—Kimberly F.
Thank you so much for the beautiful, magical, and inspiring retreat you led us on this weekend.  My heart is so full and so happy after having had a chance to reconnect with you in such a meaningful way.  With your strong and quiet energy, you created a sacred space and encouraged all of us to step out of the nest —as only an INFJ can do!—Yamilee