Carrying a handbag stuffed full of notes and wearing lots of black layers plus a knit beanie to adjust to changing temps, I wandered the basement exhibit hall of a fancy DC hotel in spring 2016. Mainly, I searched for candy at the psychotherapy conference vendors' tables. I mean, it's set out to lure you in to their booths to thumb through books promising new spins on therapy interventions and, well, I'm a sucker for candy.
After gorging myself on dark chocolate balls wrapped in world map print foil, I found the area where swag bags stamped with the conference logo were awaiting attendees. I grabbed one and then darted through the aisles to purchase a few books and then headed toward the door.
Before exiting I saw a recycling bin and knew the bag had to be stuffed with promos for online courses, books, and treatment centers that I didn't need, so I stopped to toss them into the blue recycling bin. I thumbed through each piece and had the stack hovering over the receptacle when I saw the image of a dog peeking out and the words "Veterinary Social Work." Oh my goodness!
I pulled it from the pile and felt my heart race as I read through the description: post-graduate certificate program, the link between human and animal violence, animal-assisted interactions, compassion fatigue and conflict management, pet loss and grief at the University of Tennessee.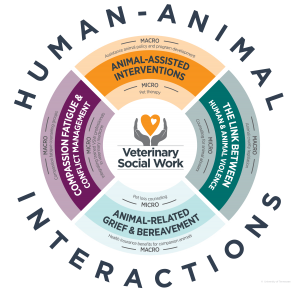 I held the orange, black, and white flier to my chest and muttered "thank you."
Fast forward to last weekend where I took the veterinary social work oath. I teared up as I raised my right hand and recited these words.
"Specializing in veterinary social work, I pledge my service to society by tending to the human needs that arise in the relationship between humans and animals. From a strengths perspective and using evidence-based practice, I will uphold the ethical code of my profession, respect and promote the dignity and worth of all species, and diligently strive to maintain mindful balance in all of my professional endeavors."
After finding out about this program over four years ago, I immediately applied and have been a proud UT Volunteer ever since. An application process, four online modules filled with hours of material, 16 hours of supervision, and a week-long conference later, I *almost* did it!
To complete my certificate I have a 250-hour final project to create and am contemplating virtual pet loss support groups (first one is November 9 at 7:30pm ET—email me, if interested).
Here's a Washington Post article on what veterinary social workers do.
I look forward to deepening my work within this specialty that stands to serve all beings. May we all be happy and free. Bisous. x