Welcome back to the Tranquility du Jour book club!
From one bibliophile to another, I'd love to read stories with you that move us and make us think and to open up important conversations to encourage reflection and deeper understanding.
Together we'll read books and discuss them over in our TDJ Insider's Facebook group and hopefully in person someday soon. You in? Hope so!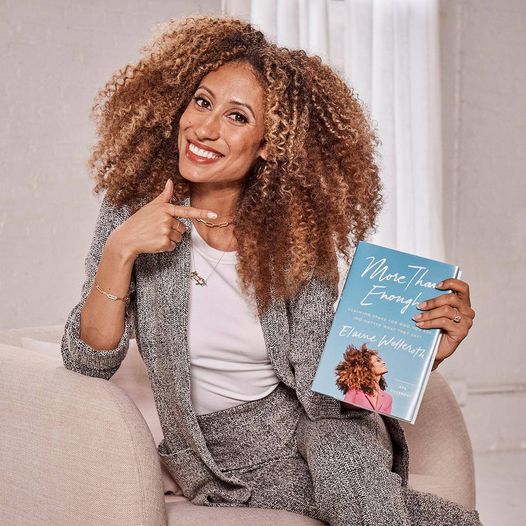 September Book
More than Enough: Claiming Space For Who You Are (No Matter What They Say) by Elaine Welteroth
Description from Her Website
Throughout her life, Elaine Welteroth has climbed the ranks of media and fashion, shattering ceilings along the way. In this riveting and timely memoir, the groundbreaking journalist unpacks lessons on race, identity, and success through her own journey, from navigating her way as the unstoppable child of a unlikely interracial marriage in small-town California to finding herself on the frontlines of a modern movement for the next generation of change makers.
Welteroth moves beyond the headlines and highlight reels to share the profound lessons and struggles of being a barrier-breaker across so many intersections. As a young boss and often the only Black woman in the room, she's had enough of the world telling her—and all women—they're not enough. As she learns to rely on herself by looking both inward and upward, we're ultimately reminded that we're more than enough.
Why I Chose It
I wanted a book by a Black female author and Elaine's book kept popping up with great reviews! The content sounds engaging AND her bio is inspiring:
Elaine Welteroth is a New York Times bestselling author, award-winning journalist and judge on the new Project Runway. She is known for her groundbreaking work at the helm of Teen Vogue where in 2017 she was appointed the youngest Editor-in-Chief at a Conde Nast publication. She's now a leading expert and advocate for the next generation of change-makers. She was recently appointed Cultural Ambassador for Michelle Obama's When We All Vote initiative. She has written for the hit show Grown-ish and has appeared on-camera for a range of media outlets including ABC News and Netflix. Her debut book More Than Enough became an instant bestseller in 2019 and received an NAACP award in 2020.
How to Join
Read the book (here's a list of black-owned bookstores or download via an e-reader) and join us over on the TDJ Insider's Facebook group for discussion. Look for the pinned post about the book. I'll share a few thoughts and prompts by mid-month and welcome you to share favorite quotes and takeaways throughout the month.