In this week's edition of Tranquility du Jour, I chat with Alisa Kennedy Jones about The Empress, midlife, and her go-to products.
The Empress is about obsessively curating a less hellish peri/menopause one product at a time so that you can unlock the power of women's wisdom at midlife to live your best life.
Direct download: Tranquility du Jour #607: Midlife Musings
Subscribe in your favorite podcast app such as Spotify, Apple Podcast, Amazon.
Visit kimberlywilson.com/podcast for more.
New to Tranquility du Jour? Learn more here.
Upcoming Events
July 15: Mid-Year Virtual Retreat

Video Interview
Our Guest: Alisa Jones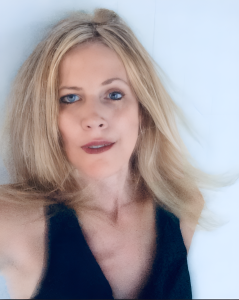 Bespoke brand consultant and bestselling author Alisa Kennedy Jones is recognized as one of today's most insightful and original voices on brand intelligence. Fluent in five languages, her celebrated TED talk on epilepsy changed the way we think about creativity, electricity, and the brain, and her debut bestseller Gotham Girl, Interrupted became a  global phenomenon in the field of narrative medicine. When not writing her next comedic novel Ellery Allbright Goes Dark, Alisa is having the best time ever heading up a variety of initiatives for Cakewalk  Ventures, Ltd., including The Empress, gotham girl, and DIA.
As  a memoirist, blogger, and screenwriter, her words have been featured widely across national media outlets such as NPR, TED, and as part of  the Academy Award-nominated documentary CRIP CAMP, Executive Produced by  Michelle & Barack Obama. An advocate for disability, neurodiversity, mental health, and epilepsy, her collection of comedic essays GOTHAM GIRL INTERRUPTED (Imagine/Penguin Random House) was a #1 new release on Amazon and is available everywhere books are sold.
Find Our Guest
Twitter @iamgothamgirl
IG @the.empress.age
http://theempressage.com
http://alisajones.com
Mentioned in the Show
Last week's Instagram Live: Mental Health Tranquility Tools
Products Recommended by Alisa
Lusome 10-second night sweat drying PJs
Petite Plume dopamine jammies
$50 off Winona HRT
IT Cosmetics – 50SPF  CC cream
Evening Wear by Stripes
Peace Out acne healing dots
The Empress SLEEP issue is coming up next, followed by What French Women Know… their makeup approach is all vitamin c-based… the leader for lips, face, and evening dewy glow right now is https://us.typology.com/
Let's Connect
Receive inbox love through Love Notes: invites, inspiration, and more.
Browse my 6 Books and planners.
Follow along on Instagram and YouTube.
Shop seasonless, vegan, locally-made, eco-friendly fashion: TDJ by Kimberly.
Share a review on Apple Podcasts, Amazon, or Goodreads and you may hear it shared on the show.