Every morning before I hop into the tub, I grab a fresh pair of my organic cotton/organic bamboo capri leggings and organic bamboo 2in1 fitted top as I run the water. There's no hemming and hawing about what to wear today, whether it will match or be comfortable, or if it's clean (I have multiple pieces).
When I recorded this week's podcast, I wanted to share a peek into my daily dress-up process and help you explore your own. Sure, we may not be seeing colleagues or clients in the office, or running into friends at the cafe, or going to events like we once were, but there's still an opportunity to showcase your signature style—even if it's just for you.
And it's never boring. Layers and accessories allow us to make new outfits out of our most basic look. Today I grabbed a faux leather button down dress that I picked up during my last trip to Paris to add to my uniform.
Wondering how to create your own uniform?
Notice those pieces that you constantly reach for. You know, the ones that feel good on your skin, you feel like you shine in all day long, and they make sense with your lifestyle. Sure, it may be a jogger pant and tee right now. I mean, loungewear is all the rage in our WFH lifestyle. So you may want to spice up the jogger pant and tee with a blazer and scarf or a wrap tunic and chunky necklace.
Schedule a closet purge to donate those pieces you haven't touched in months and don't plan to touch again. Maybe it's that non-stretch shift dress that never fit quite right or the not-so-comfortable skinny jean. Give these a new home.
Notice if there's any favorite pieces you'd like to refresh or build upon. If so, make a small shopping wish list. Perhaps you'd like a less pilled chunky sweater to layer over your uniform or a skinny pink belt to wrap around your uniform.
Once you've narrowed down your closet to your favorites, explore ways to mix and match the pieces to make a variety of looks.
Save the date
To help bring this concept to life, I'm hosting a TDJ Style Pop-Up on March 27 at 1pm ET. During this festive one-hour gathering, learn how to create and style a capsule wardrobe featuring eco-friendly, locally-sewn TDJ designs. I'll be joined by a few TDJ aficionados to share their favorite ways to wear a piece! Register here.
A new uniform convert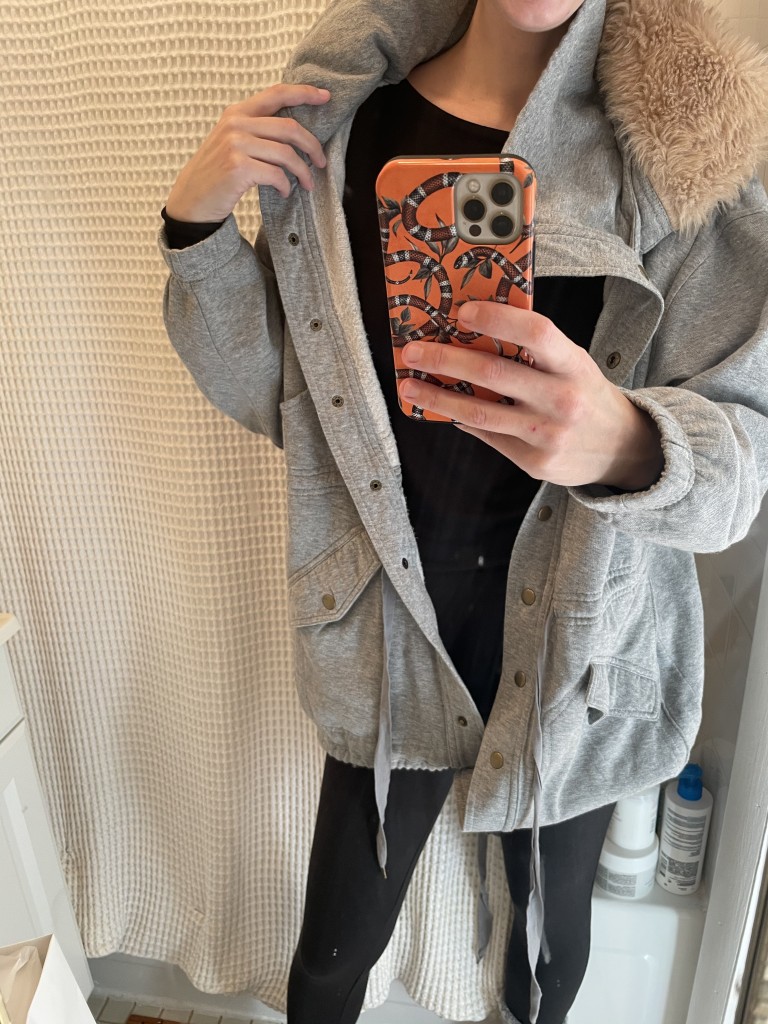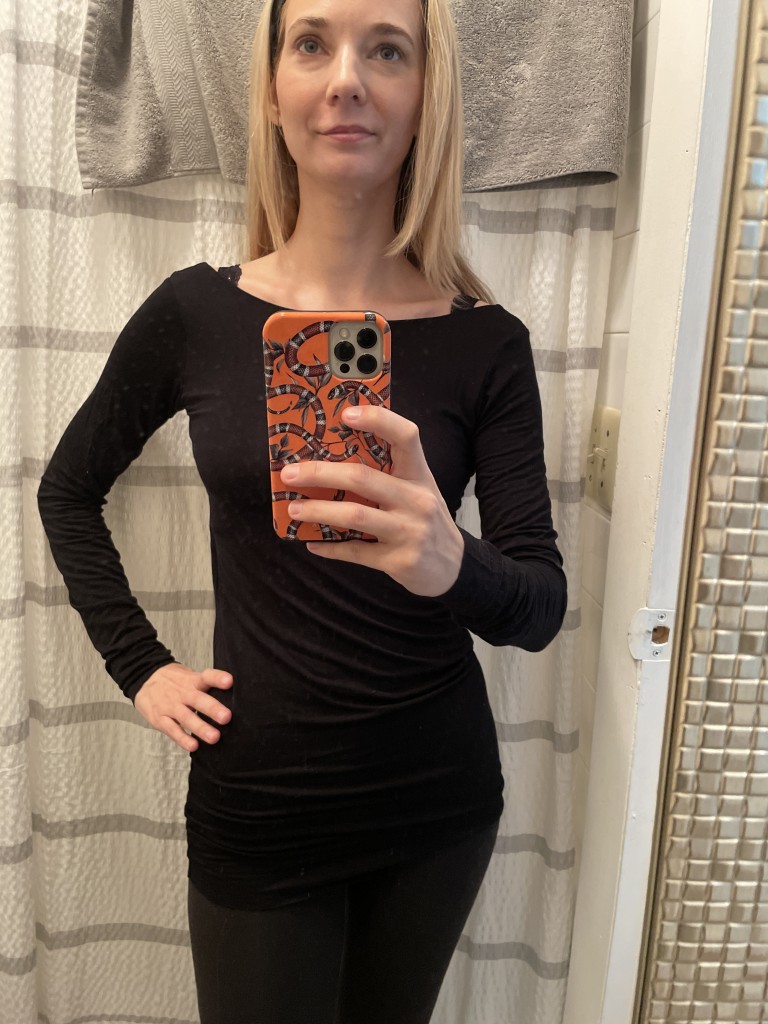 I am so digging the capri thicker noir leggings and the longer 2 in 1 … WOW! I'm so, so happy and they are legit my go to!!! Thank you for your designs!! Seriously living in this. Need to buy more – so key for WFH- the top is nice enough to wear on zooms ("classic"!), but oh so comfy. And the thicker capris are amazing. Plus I can easily run out and I look great too. I was wearing this outfit under a large chunky black off the shoulder sweater for some outdoor dining and later when I was inside a friend's home I took off the larger sweater and her BF was like "oh amy is so chic" and I said "thanks! But also omg am I comfy!!" —Amy H.
Remember, a uniform is all about ease, less decision fatigue, and finding something that feels uniquely you and is easy to dress up or down. Wishing you comfort and joy as you adorn your beautiful body every day and I hope this post helps make the process even smoother. Bisous. x