Each ingredient was carefully chosen to represent the different aspects of who we are—earthy, sweet, floral, and fragrant.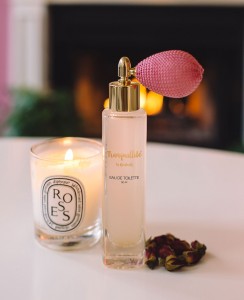 A woman who doesn't wear perfume has no future.—Coco Chanel
Between sipping tea at sidewalk cafés and tiptoeing through the Tuileries, I created Tranquillité in a Paris apartment overlooking the Eiffel Tower.
Bursting with notes of gardenia, jasmine, sweet musk, rose, and sandalwood, it's a girly delight. The original creation is shown above and here's a peek at my parfum class.
Compared to L'Instant de Guerlain by my teacher, I find the scent to be an intoxicating blend of all things tranquility and an homage to Parisian style.
Dab or spritz to evoke a connection to your playful spirit and a reminder of self-love.
INGREDIENTS
Free of dyes and animal testing, Tranquillité is a blend of essential and fragrance oils from France. We don't use real musk as it comes from animals and we love animals!
The parfum oil is a delicate blend of luxurious jojoba oil and sweet almond oil. Jojoba oil moisturizes skin while almond oil is anti-aging and nourishing.
Organic rose petals float freely in your small-batch handmade parfum oil creation.
OPTIONS
Roll on parfum oil: This clear square bottle is a roll on with a gold cap and filled with Tranquillité parfum oil infused with organic rose petals. Perfect for your purse. Your new parfum arrives in a black velvet pouch sprinkled with organic rose petals.
Eau de toilette tower: This clear glass slim bottle has a pink bulb sprayer and gold fitting filled with Tranquillité eau de toilette. Your new parfum arrives in a box sprinkled with organic rose petals. SOLD OUT.
SHIPPING
The parfum oil ships via USPS Priority Mail and is only available for delivery within the contiguous United States.
LOVE
A portion of all profits will benefit Pigs & Pugs Project and are handmade in small batches infused with love.
REVIEWS
OMG!!! I just received your perfume creation in the mail and I am crazy about it! It may have to become my new signature scent! Thanks so much. –Sally
The scent is divine and is one to worn and treasured every day. Makes you feel warm, cozy and indeed, tranquil. Thank you for creating it! –Diana
Tranquillité smells exquisite. It is exactly the type of perfume you want to wear on your wedding day and the office. I am constantly smelling my wrist! –Denise
J'adore Tranquillité! Florals are my favorite and I knew you'd put something wonderful together. –Lynne
I absolutely adore Tranquillite! Buying Tranquillite parfum scent unseen felt like a little bit of a risk– the idea of a scent created in France sounded fun, but personal tastes can be so different. Would it be too loud? Obnoxious? Or the most common problem I tend to have with scents: Would I be allergic? My fears were unfounded, however, and the scent was exactly as described: Tranquillite. Sweet, soft, subtle, luxurious. Absolutely nothing obnoxious, loud, or otherwise ostentatious. The fragrance melted effortlessly into my skin to become a natural but more alluring part of me. This lovely, easy to wear parfum can effortlessly become a signature scent. It is at the same time both cozy and light, comfortable yet charming. Truly a great find! –Elizabeth
It smells heavenly! Thank you so much for offering to bring it back. I really love it. –Pam
I have been significantly rationing what little I have left for some time, and am très sad that I cannot spray myself all willy nilly with your wonderful creation. I think I may have told you this before but close to 2 years ago, I started the daily practice of spritzing myself with your perfume before bed, while looking at myself in the mirror & saying "I love Me." It may seem like a small act, but it turned out to be incredibly powerful, once it became a habit. Your perfume has been the cherry on top. Thank you for that. –Carrie
Please, never stop making this

perfume

! I figured I'd like it since it contains all my favorite things, but wondered if it would be too floral. It's just heaven. And the most delicious and relaxing scent ever. –Diana
I just wanted to say how scrumptious your Tranquillité parfume oil is!  I've had it for awhile (3 bottles of it, to be precise — for desk, home, and purse), and wear it almost every day, but every time I open the bottle, I'm blown away by how delicious it smells.  Promise me that if you ever stop producing it yourself.—Allison