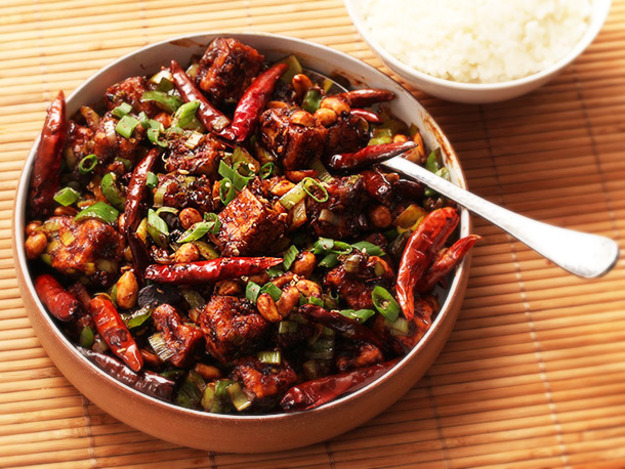 image and recipe at serious eats
My discipline appears to be trailing off. I succumbed to a snack-sized bag of Goldfish, an organic fruit roll-up, and four dark chocolate Dove bites with very little guilt. Have I simply thrown in the towel?
Monday started as most do—a bit wobbly trying to find solid ground. After an emotional weekend felt around the globe, this state of unease definitely affects one's eating habits.
Breakfast was a yummy green juice (ginger, spinach, kale, cucumber) and steel cut oats topped with apple, walnuts, and pumpkin spice. Filling and flavorful.
A few hours later my blood sugar was low post-yoga and I found Goldfish and organic apricot bar in Tranquil Space's team room. I looked both ways, then quietly snuck it in my bag and noshed on it while walking to my next appointment.
Leftover kung pao tofu provided my lunch and dinner. "Dessert" was kale chips coated in nutritional yeast.
Back to Tranquil Space that evening to teach, I found a few remaining Dove bites hiding under dozens of Charms Blow Pops in my office and popped the chocolates into my mouth.
Again, off track other than breakfast and kale chips. It's frustrating as I don't think this detox asks too much and it's only 10 days, but I don't seem to be able to shake certain habits of convenience (hello Goldfish, fruit bar, Dove bites).
I did decline salt water taffy in the name of the detox, so maybe I have a sliver of discipline. Here's hoping I can finish strong! Bisous. x
---