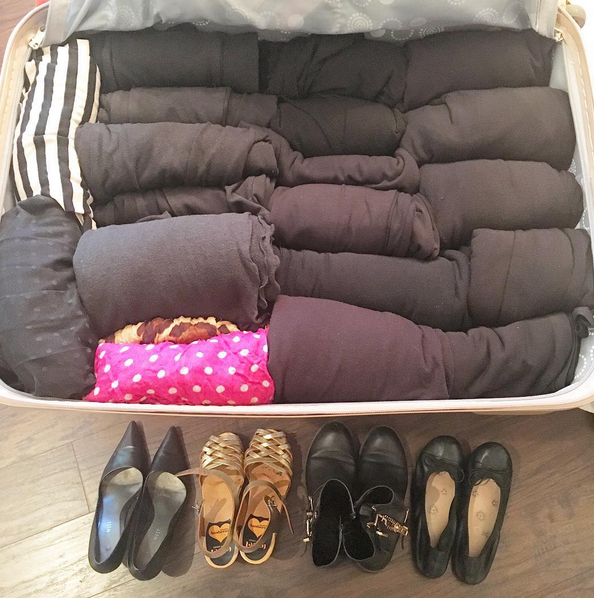 Packing for trips has been known to raise anxiety levels. When I shared this Paris suitcase pic on Instagram, I received a few emails asking what was inside. It's helpful to see how a few items can transform into multiple outfits.
Although the AirBnB apartment we rented had a washer, I packed many duplicates (hello 2in1 tops and leggings) to alleviate doing more than one to two loads during my 10-day stay.
Rolled clothing items: One stripe savasana throw, one mesh skirt from Italy, four pairs of leggings, one infinity cowl, two printed scarves, four 2in1 tops (three long sleeve, one crop top), one palazzo pant, one ruffle dress, one shift dress, one slip dress, one pencil skirt, one blazer, one boyfriend tank = 20 pieces.
On the plane I wore leggings, a 2in1 top, long sleeve wrap tunic, and the bulky boots. Most items are from TranquiliT's Capsule Wardrobe.
Shoes: Four pairs turned out to be two too many. The left heels were simply for the photo shoot. I only wore the gold clogs during an evening out sipping champagne at sunset overlooking the Eiffel Tower. The boots and ballet flats were my go-tos all week and would have been plenty.
Items not pictured include: technology, toiletries, intimates, socks, trench, faux leather jacket, books, journal, pens, slippers, meds, passport, yoga mat, candle, gifts, sun hat, purse and its contents.
Here's a handy PDF travel checklist plus mix and match clothing ideas.
Below are photos snapped by Tim during the shoot with Carla Coulson to show a few of the looks, plus a few additional outfits from being a flâneur in the City of Light.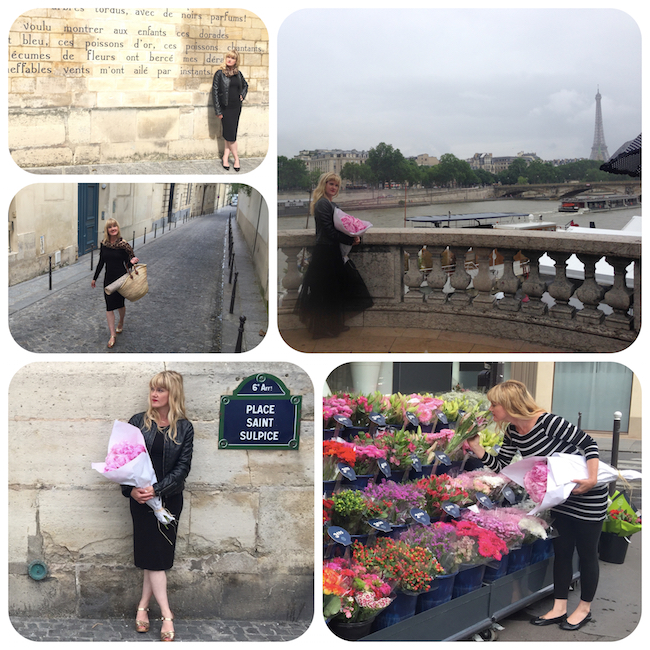 A couple silly outtakes from the shoot where I was giving "that look" and blowing kisses to help relax face muscles. During that second shot, a sweet family of Asian tourists were on the side taking photos of us. I envision them looking back at those photos and being disappointed to realize that, alas, I definitely wasn't anyone famous.
A few flâneur shots in the ruffle dress, ruffle dress with infinity cowl and leggings, 2in1 crop top with pencil skirt, and boyfriend tank with leggings (and blazer in hand for the sun-behind-clouds moments).