How we spend our days is how we spend our lives.—Annie Dillard
A pink planner, lifestyle organizer, and wellness guide all-in-one. This is the Tranquility du Jour Daybook story.
After months of dreaming, design, research, and edits, on November 11, 2012  I announced its release. The seed for this project was planted by an email from a blog reader/friend and took sprout with the $100 donation from the 2012 World Domination Summit.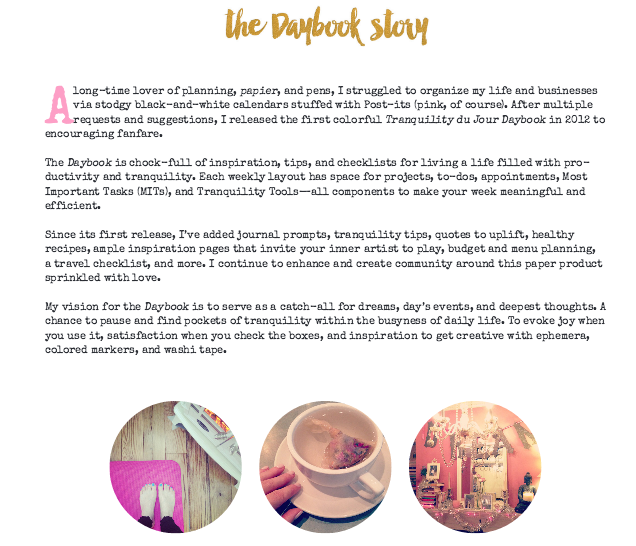 For the past many months I've been debating whether to produce a 7.0 version and, after much inner reflection, I've decided not to create one this year. [UPDATE: New Daybook available.]
Honestly, I wouldn't change much from 6.0 (other than that darn typo that shall not be named) and right now I lack the necessary creative space that designing, reviewing, editing, packing, and shipping these little gems entail.
My biggest fear of not producing a new version was leaving Daybook supporters without a tranquility-filled option for planning.
To alleviate this concern, we're offering ALL six editions of the Daybook and one edition of the Playbook as PDFs for you to print, cut, and assemble in a way that fits your needs best. And below are some ideas on how to DIY your planner!
Here's a video by Daybook connoisseur Barbara who has personalized and assembled hers over the past six years.
Here's a blog post by Darca who also created her own version.
While I know this isn't the same as receiving a completed product in a pink envelope via snail mail, I hope this will allow you to continue using what you most love about the Daybook and enjoy a dose of tranquility, organization, and love in your every day!
I'm honored to know that this labor of love touched the hands of creative women around the globe.
Thank you also for understanding as I ponder if this project may have run its course or if I simply need a small break from producing it.
So to Daybook or not, that, my dear friends, is the question. Bisous. x
[UPDATE: Due to your feedback, there's a new Daybook available.]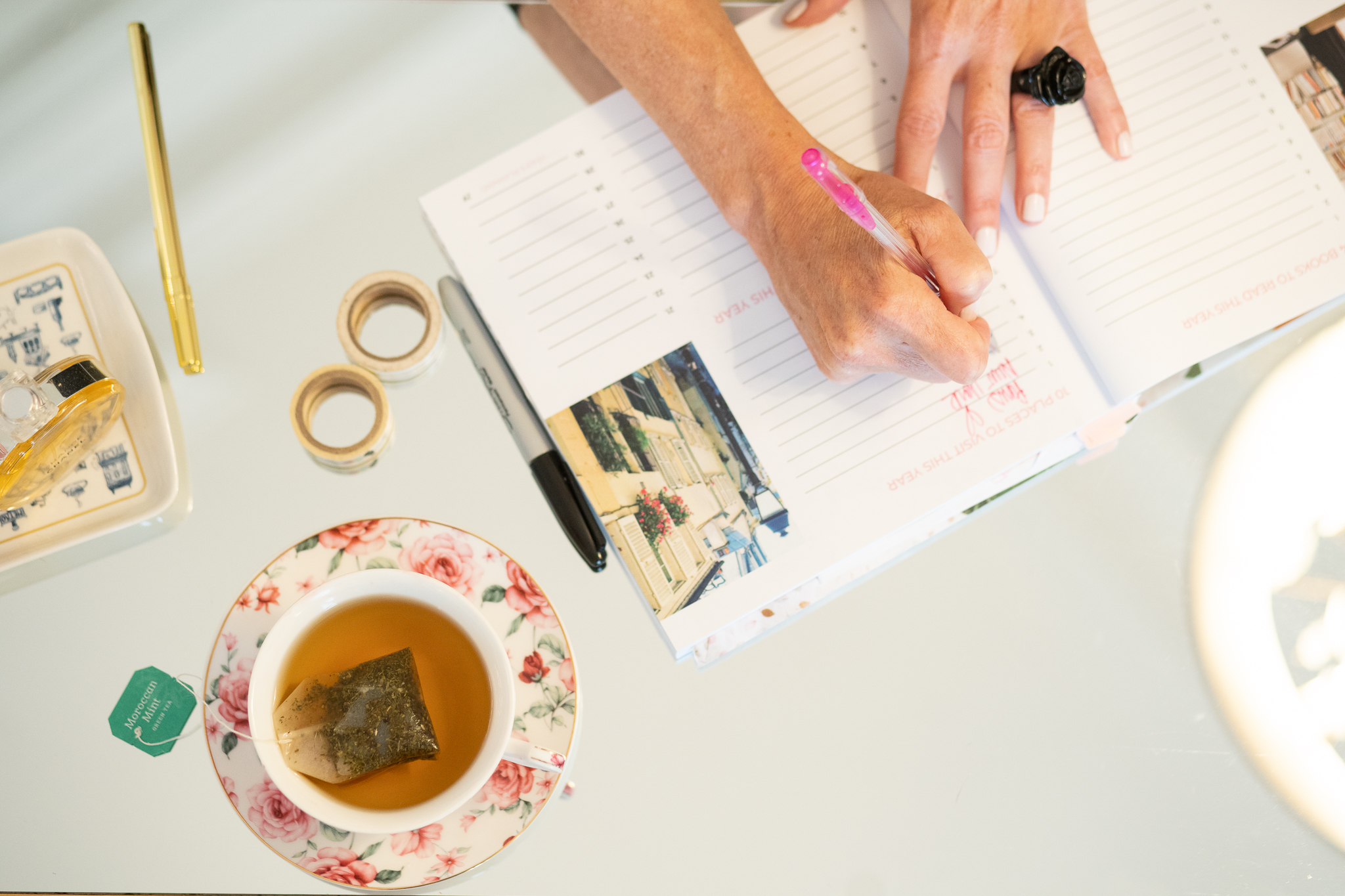 Daybook Love
I just had to write you back to tell you how BEAUTIFUL Daybook 6.0 is! Your work has always had style and beauty, but this new Daybook is astonishing. I was floored when I first took a look at it. The full color pictures are so gorgeous, the paper is soft like silk, and I really appreciate that you added a 5th week for every month.  Every year you improve upon the Daybook and I really think you did an outstanding job this year. It's so lovely and I can't wait to begin adding to it!!—Katie
I just wanted to say thank you so much for the Playbook and the Daybook. I admittedly have already jumped into the Daybook and I couldn't love it more. Not only does it help me organize my thoughts, but it jogs my creativity and allows me to break down my goals into manageable daily tasks. Thank you for always creating such quality content. Your products make me excited to be organized and to take care of myself. I can't thank you enough for that.—Kayla
Thank you so much for the new (6.0) Daybook. Last year I ordered the 5.0 version and absolutely loved all its features. My daybook kept me organized and up to date on everything from yoga classes, diet, tranquility time, work, play and  everything in between. It is super-fantastic.—Ileana
My 1st one came 2 days ago! New fan girl here. Love the self care, creativity, and focus prompts, especially with the extras available! Appreciate the healthy productivity and environmentally conscious lifestyle research behind this holistic-minded product. Planning, dreams with goals and warm-fuzzy rewards, done in a wellness art journal—fun and cathartic!—Dawn
My Daybook came today and it is beautiful. This is my first. In looking over it tonight, I think if I follow it, this can be life changing for me. I live alone and usually eat dinner on the couch watching TV. My first plan is to clean off the kitchen table and put some candles on it. I see a spiritual and physical healing over the next year.—Julie
I have tried many types of planners over the years but yours are the only ones that have worked for me and that I truly enjoy using. I love the layout of the Tranquility du Jour Daybook and use every single section. The quality, the colors, and the tranquility tools and tips come together to create an absolutely beautiful planner.—Deborah
I LOVE tucking a formerly used Daybook into my satchel and heading to coffee shop to reminisce and be inspired once again by the collages made, the quotes glued in, the photos printed and cherished and the desires attained. A visual anthology of the impermanence of life and the magic along the way. THANK YOU. —Marilyn
The Daybook is just one of the many tools you have shared with me. I owe you much thanks. Because of your instruction to plan daily, weekly, monthly and yearly this year took a different shape than the past years have. My husband and I went to Paris (what?) I've lost 30 lbs (what?), I always have fresh flowers in the house, I returned to yoga, I took a meditation class, I have more deliberate dates with my daughters, I write more notes, and the list goes on and on and on.—Kristin
Your Daybook is sensational–I can barely wait for 2016 so I can use it. The cover is amazing and it is such a quality creative masterpiece! I know my friend will love it too! — Gail
I walked my two dogs to the mailbox today (.25 miles from our house) and I could not get home fast enough once I saw that your Daybook had arrived. I made a cup of tea and then came right to my art room and have been moving into the Daybook ever since. Dinner may not get made… Sorry dear fam, but my soul, stamps and markers are surely being fed right now.—Kristin
What is this magic of a planner?! I'm in love with it. Another triumph, Kimberly. I'm officially a convert.—Missy
I surprised the postman when I swung the front door open and broke out in a HUGE smile when I saw the package!! Kimberly Wilson, it is really beautiful! —Sam
Kimberly, I LOVE the new daybook!!!  It's so much fun!  I waited for everyone to go to bed so I could open it without distraction…what a long wait!  It's beautiful, I can't wait for Nov 30 & my supplies to start playing!!!  Merci merci merci!!!! —Shannon
YAY!!!! I have tried many types of planners over the years but yours are the only ones that worked for me and that I enjoyed using. Looking forward to pre-ordering one for 2017. The cover is gorgeous!—Jen