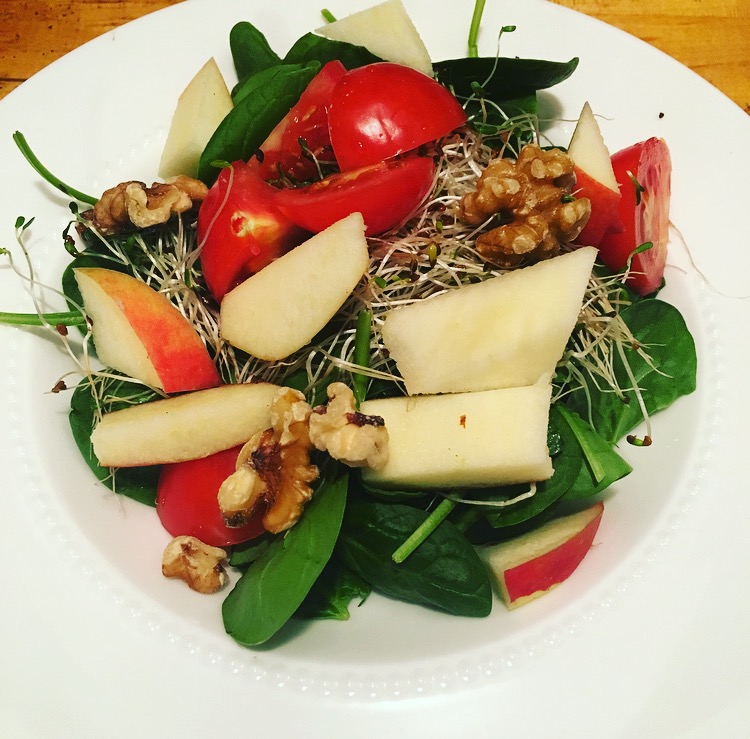 Yesterday I was better behaved. Truth be told, it's probably because I didn't leave the house.
Breakfast was steel cut oats with walnuts, apples, and a splash of illegal stevia.
Lunch was brown rice and teriyaki broccoli.
Dinner was a small bit of illegal leftover vegan risotto and this gorgeous salad shown above: spinach, sprouts, tomatoes, apples, walnuts.
Snacks included clementines, dates rolled in coconut, and a handful of walnuts.
Other than the stevia and processed risotto leftovers, I did good!
No Zen green tea with a packet of sugar to start the day. I missed the taste, but not the caffeine. Instead I consumed lots of herbal tea and hot water with lemon.
I'm supposed to add ground flaxseed to the hot lemon water, but I recall it all settling on the bottom last time and being goopy to drink. May obey tomorrow.
While I'm not hungry on this detox, I do miss sweet treats after most meals, my morning avocado toast (love the crunch), the taste of Zen green tea, and pizza. I think I could live on pizza. And maybe pumpkin pie, too.
To be continued. Day three. Bisous. x
Previous posts: