Author's Note: I shared this today with my Passholder Collective and thought you, too, may enjoy it!
____________________
This month my first book, Hip Tranquil Chick, turns 15!
You may have joined the 10-year birthday or the 13-year birthday events. If so, thank you!
Earlier this week I realized it was 15 years thanks to one of those Facebook memory posts and it's fun to reminiscence, especially when it comes to the creative process.
Here's the gestation story of Hip Tranquil Chick: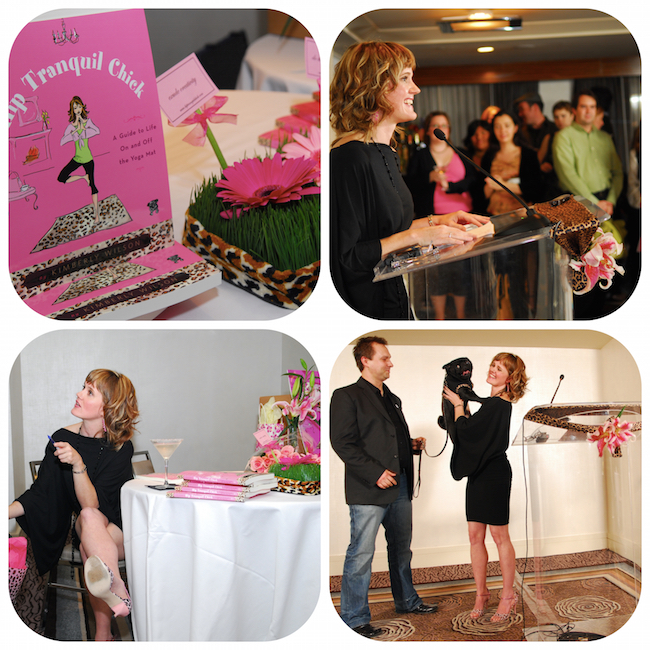 Sitting on the floor of my floral print-infused living room, I turned to a teacher participating in my first Artist's Way women's group and said, "I want to write a book!"
"Great, about what?"
That's where I stopped; I had no idea.
After some back and forth, we came to an agreement to trade yoga in exchange for writing coaching. She brought her Georgetown University syllabus to our first session and I realized that I was very, very lucky.
Two exercises that stick out from that experience include creating a vision/inspiration board and going to a bookstore.
When stumped with what I wanted to write about, my teacher had me pull images from magazines that represented what I wanted in my book. After scouring various images, I settled on those of happy couples, zen settings, yoga, bubble baths, nature, and healthy food.
One rainy weekday morning I met her at a Barnes & Noble in Georgetown to look for "book cousins." These are books similar to what I wanted to write. We noted where they were shelved, who wrote them, who their agents were (found in the Acknowledgements section), and what was missing from that genre.
This was 2001 and there were only a smattering of yoga books—mainly philosophy driven such as the Bhagavad Gita—and it covered 1/3 of a tucked away shelf on the bookstore's second floor.
After the vision board and bookstore tour, I realized that there was a need for a yoga lifestyle book. Sex and the City and chick lit were popular at the time, so a playful, female-focused yoga-centric book felt like a perfect melding.
And that's how Hip Tranquil Chick was born.
Is there something inside of you that wants to be birthed?
Perhaps it's still in a seedling form and with the right amount of care, it will take root and grow.
As we move into the final eight weeks of 2021, what would you like to create? Perhaps it's a book proposal, banana nut bread, holiday gifts, a more "you" WFH space, a 2022 dreams spread in your art journal.
Share yours in the comments below. You've got this! x