Welcome to Tranquility du Jour! Let's grab a virtual cuppa tea and chat tranquility.
Tranquility du Jour is a blog and podcast with musings and interviews on a potpourri of my passions—yoga, mindfulness, animals, creativity, style, and, of course, tranquility.
My name is Kimberly Wilson and I'm a psychotherapist in private practice, designer of  eco-friendly TranquiliT, president of Pigs & Pugs Project, and author of five books.
I also created Tranquil Space—named among the top 25 yoga studios in the world by Travel + Leisure and now owned by YogaWorks.
I live in the petite Pink Palace in Washington, D.C. with a rescue kitty, rescue pugs, and a non-rescued beau. I dream of Paris and living on a farmette surrounded by rescue pigs and pugs.

all things tranquility
Craving tranquility? Consider a retreat immersion, download an e-course, tune into a seasonal Tranquility du Jour Live, experience mentoring or therapy, listen to podcasts, or watch the YouTube channel.
For regular doses of inspiration, sign up for Love Notes and gain access to Tranquil Treasures  filled with yoga and meditation mp3s, downloadable manifestos, and more.
Thank you for stopping by my little corner of the Internet. Let's connect, I love hearing from you. x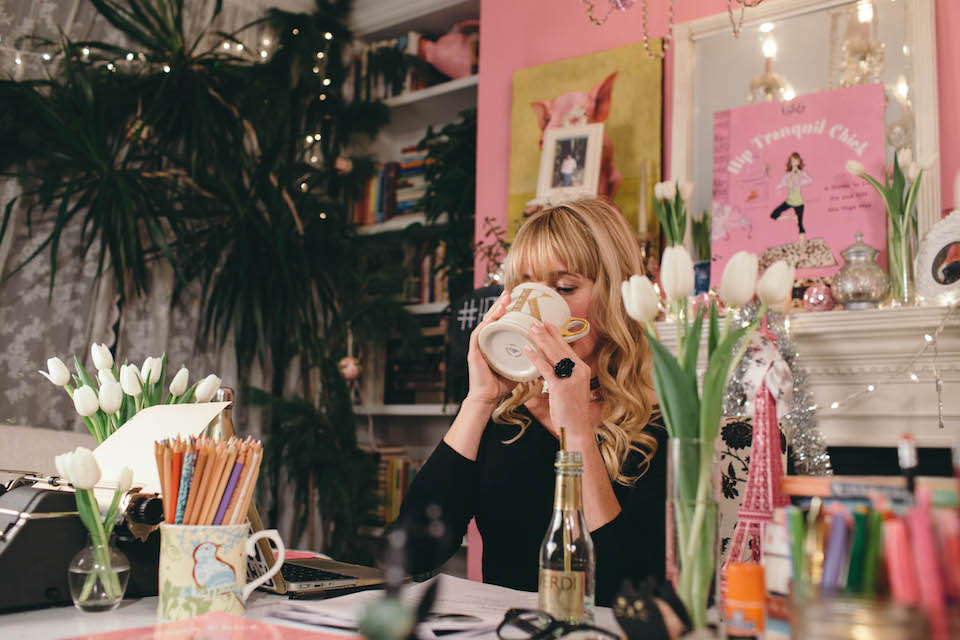 FAQs 
What are your most recommended books?
For creativity: The Artist's Way: A Spiritual Path to Higher Creativity
For business: The E-Myth: Why Most Small Business Don't Work and What To Do About It
For lifestyle: The Not So Big Life: Making Room for What Really Matters
For yoga: Jivamukti Yoga: Practices for Liberating Body and Soul
For mindfulness: Wherever You Go, There You Are: Mindfulness Meditation in Everyday Life
For style: Entre Nous: A Woman's Guide to Finding Her Inner French Girl
For time management: 168 Hours: You Have More Time Than You Think
For activism: Most Good, Least Harm: A Simple Principle for a Better World and Meaningful Life
For homemaking: The Hip Girl's Guide to Homemaking: Decorating, Dining, and the Gratifying Pleasures of Self-Sufficiency–On a Budget
For animals: Do Unto Animals: A Friendly Guide to How Animals Live and How We Can Make Their Lives Better
For writing: On Writing: A Memoir of the Craft
For diet: The Good Karma Diet: Eat Gently, Feel Amazing, Age in Slow Motion

Why is creativity so important to living a tranquil lifestyle?
Creativity ensures there is a spark inside – even if you live or work in what you may perceive to be a non-creative setting. The art of creativity is finding that spark, making that spark, and keeping that spark alive. I think creativity is akin to self-discovery and ongoing happiness. Living in a creative way allows us to color outside the lines, push our edges, wear pink tights, don red lipstick and sparkles, write with a silver pen, and explore new places. By making creativity a priority, stagnation is less likely to occur, growth is inevitable, and, ideally, tranquility will be a part of the process.
What does tranquility mean to you?
Webster's Dictionary defines tranquility as the quality or state of being tranquil. Tranquil is then defined as free from agitation of mind or spirit. I define tranquility as the quality of calm within a full and meaningful life.
The word tranquility is woven throughout my work. Tranquility is easy to find meditating on a mountaintop or while on vacation, but what about when the dog is barking, kid is crying, or deadline is looming? That's where it gets juicy—calm among the chaos that makes up a full and meaningful life!
I want to write a book, how do I get started?
In 2006 I recorded a podcast that outlines my experience from concept to publication. Listen to it here and learn all my tips and tricks. In addition, on pp. 26-27 of Tranquilista I share a timeline of my writing journey. Good luck!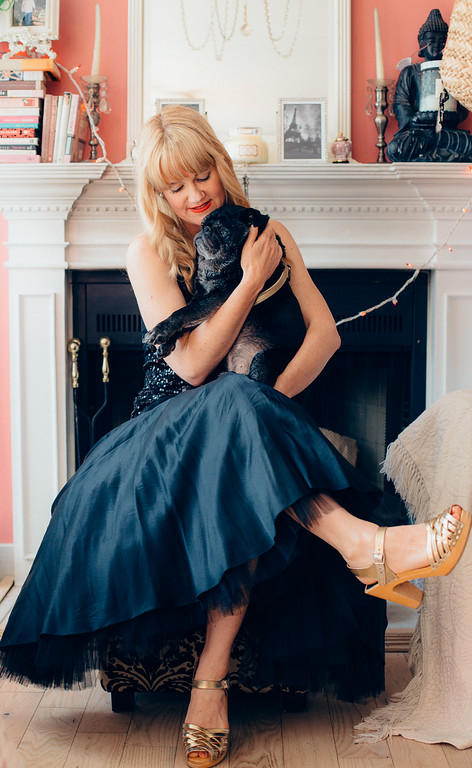 I have a business idea and want your feedback. 
Congrats, business ideas are so exciting! For advice on launching a new business, please peruse Tranquilista or my e-course on Creative + Conscious Business. I share all my lessons learned plus tons of resources in these items. If you want feedback catered directly to your situation, please consider a mentoring session where I can focus fully on you. Due to time constraints, I am unable to meet for tea or chat via email regarding business or non-profit ventures beyond these offerings.
What is the Tranquility du Jour Anthology?
This full-color commemorative book released in 2014 is a celebration of 10 years in the blogosphere.
It's a mini-memoir from a fellow soul sister desperately seeking tranquility. Inside you'll find nearly 100 essays beckoning you to pour a cuppa tea, relax into your chaise, and bask into a space of storytelling and reflection.
Photographs featuring simple pleasures of daily life and Parisian travels are sprinkled throughout. This guidebook encourages a connection to tranquility within, serves as a workbook with space for your own musings, and shares many lessons learned along the way.
What is Tranquilologie?
Tranquilologie is the study of living tranquility with joie de vivre, my third book, and the text behind the 2013 Tranquility Tour Pop-Ups. This formerly released e-course was enhanced, revised, and turned into a full-color artsy book filled with 96 insightful essays, how-tos, Savvy Sources, signature "OMwork," inspiring quotes, and checklists.
This do-it-yourself field guide takes you from January through December with doses of inspiration covering eight topics – mindfulness, self-care, nesting, do-gooding, work, style, creativity, dreams – in a fresh way each month.
To enhance the journey with eye candy, full-color watercolors created by artist Mary Catherine Starr are sprinkled throughout.
What is the Tranquility du Jour Daybook?
My vision for the Daybook was to serve as a catch-all for dreams, day's events, and deepest thoughts. A chance to pause and find pockets of tranquility within the busyness of daily life. To evoke joy when you use it and satisfaction when you check the boxes. And inspiration to get creative with ephemera, colored markers, and washi tape.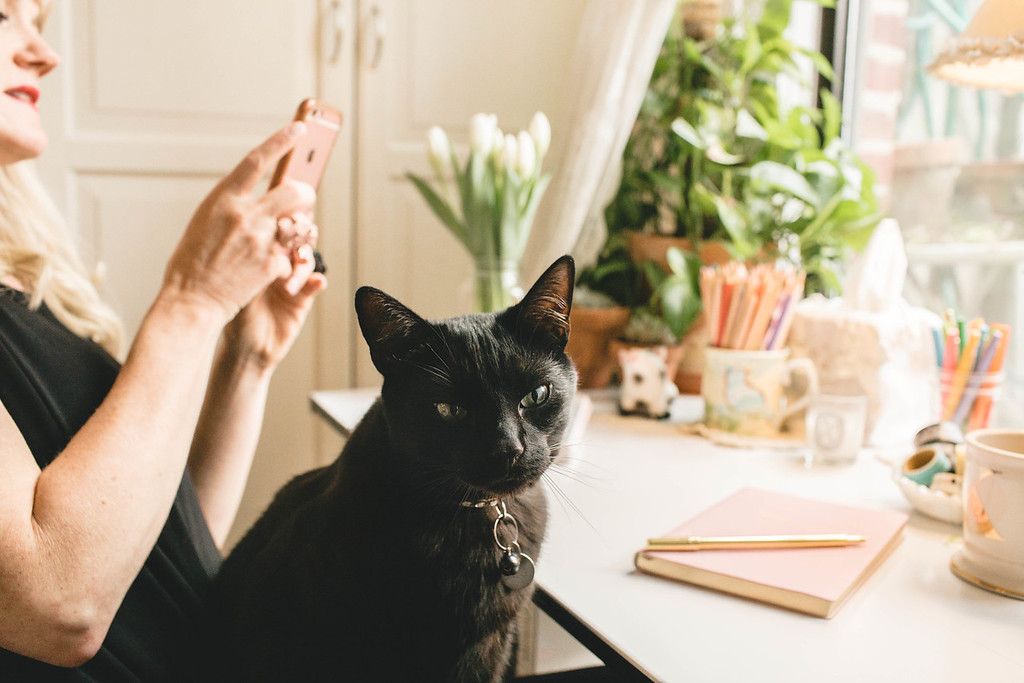 How did you find tranquility wearing multiple hats?
I find the line to be blurry between work and play. During down time you'll find me reading non-fiction books, practicing yoga, or thumbing through creativity magazines—all of which are applicable to my professional life and fuel my passion.
During work I'm sipping tea, engaging in social media, and blogging about my latest adventure. My work and play commingle in a coherent, holistic way. Also, I'm a sucker for self-care: regular massage, lots of sleep, yoga, and journal writing.
Why do you emphasize spirituality and giving back as lifestyle essentials?
These are foundational building blocks to launching a career and life mindfully. By taking time to feed your spiritual self through simple acts such as time in nature, meditation, journal writing, and yoga, you're able to know yourself better and find your center. Similarly, by giving back to others and striving to let your thoughts, words, and actions have a powerful impact on those around you, you are able to make better decisions, be a leader, and, ultimately, leave a legacy.
You penned Hip Tranquil Chick in 2006, why did you decide to write Tranquilista in 2010?
While writing my first book, Hip Tranquil Chick: A Guide to Life on and off the Yoga Mat, I coined the term mindfully extravagant. My hope was to explain embracing flair-filled things such as chandeliers, kitten heels, and little black dresses while also practicing yoga, meditating, caring for the environment, and giving back.
These two concepts may feel at odds, but when combined they make even the mundane more sacred. Tranquilista takes the concepts of Hip Tranquil Chick deeper. As a serial entrepreneur, I receive a lot of questions about creating a business or enhancing one's professional life so I offered up three chapters in Tranquilista on entrepreneurship in an enlightened way. I wanted to offer additional ideas, how to's and tips on living a tranquil life at work and play.
You are a paralegal turned yoga teacher/eco-fashion designer/author/nonprofit director. What are the defining moments of your career evolution?
Taking risks. When I could no longer take staying in the corporate world during the day and dabbling in my passion at night, I took a calculated leap into self-employment. Each of my subsequent ventures has sprung from my desire to grow and explore personally and professionally. All have involved risk, but I've taken them in a slow, steady manner that allowed me to manage the growth.
Transitioning from offering a service (yoga) to also offering a product (clothing) was another defining moment as it allowed me to expand my creativity.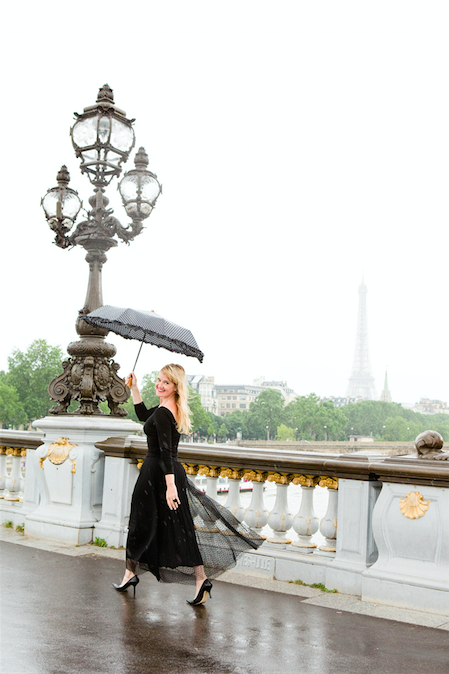 Writing a blog and books coupled with producing a podcast have also helped to define my career. I'm now able to reach far beyond the walls of Washington, D.C. and am blessed with a global community of like-hearted souls.
What's on the horizon?
I'm enjoying being a therapist in private practice, designing for TranquiliT, writing, serving as President of Pigs & Pugs Project, creating new sensory delights, dreaming of Paris, and studying, always studying.
What are your favorite tranquility tools?
My Daybook, a dab of parfum, scented candles, pet cuddles, all types of tea, green smoothies, love notes, green juices, yoga mat, fresh flowers, meditation cushion, twinkle lights, washi tape, piles of books, gold water bottle, colored Paper Mate flair pens, TranquiliT wraps, face oil, warm baths with almond oil, hot water with lemon, lavender oil, and rosewater . . . to name a few.
I'm coming to DC, what are your recommended go-tos? 
Bienvenue à DC! Check out my DC faves page.
I'm off to the City of Light! What are your favorite Paris spots?

Save
Save
Save