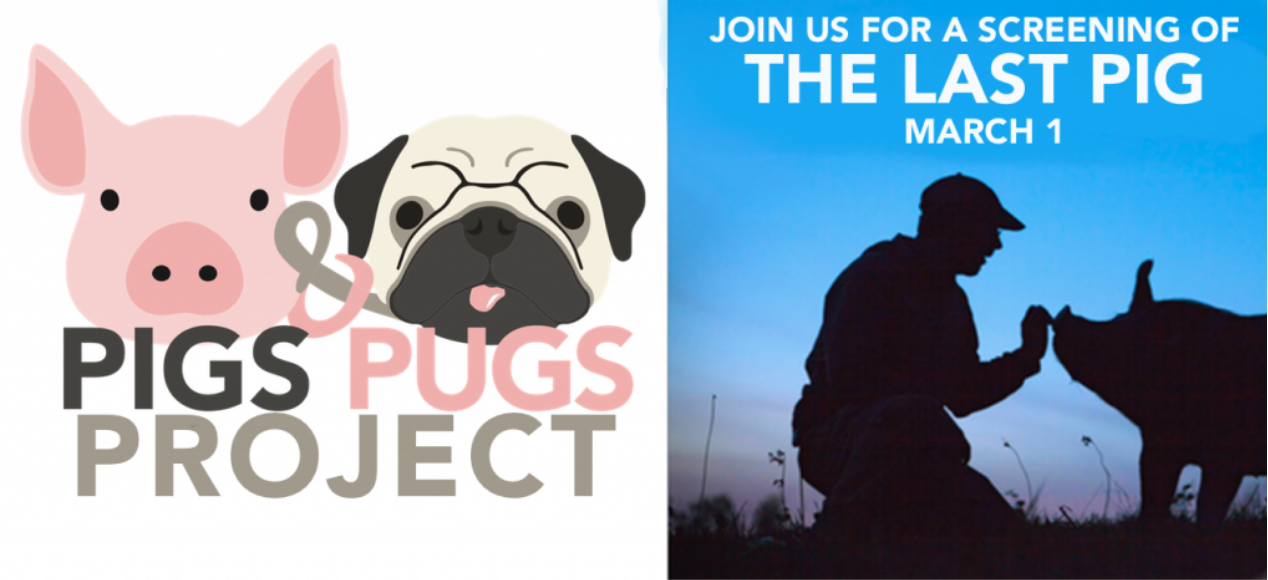 Last Thursday, on National Pig Day, Pigs & Pugs Project hosted a film screening of The Last Pig. It was our first big event since transitioning over our programming from Tranquil Teens to Pigs & Pugs and I was a bit nervous.
We had two special VIPs joining us, Charlotte of Life with Pigs and Gene Baur of Farm Sanctuary, along with some other amazing people in the animal rights world.
I rarely practice speaking and am more of an "off the cuff with some planning" kind of gal, but went over my opening about 10 times before Tim and the pups had had enough. I think Belle even rolled her eyes at my final attempts.
While practicing the film introduction, I couldn't get through it without crying so you'll see in the video below I simply state its name, no context. Truthfully, the film speaks for itself and ever since I first heard about the film and interviewed the filmmaker and farmer in 2015, I've been deeply moved. Like I was as a child with ET and Where the Red Fern Grows and a teenager with Gorillas in the Mist.
When your heart is so connected to a cause (pig sanctuaries and pug rescues), you want to be a good representative.
I had stickers, postcards, reusable bags, and large foam boards splashed with our logo (which I believe is absolutely adorable).
I brought twinkle lights to the event and the bar manager graciously explained they didn't have any extra outlets. #havetwinklelightswilltravel
I packed pig figurines to display on the vegan hors d'oeuvres table.
Tim designed pink VIP signs with a pig outline for the VIP seating.
It's all about the details.  And the message.
After the event, I received an email from a participant  who wrote:
I'm super-happy I came to your event!!!  Originally, I was not sure I wanted to.  Just as people have an aversion to being around vegans, because it makes them feel uncomfortable, so too, do I typically have an aversion to seeing films that I know will tear up my insides!  That said, this is the first time I've ever watched a video of this nature and I know that was important for me.  Also, I was very impressed with Gene's breadth of knowledge (i.e., farming, genetics, cooking, and legislation!!!!)  Woah!!!
My takeaways are that I want to give up eating any fish at all, I would like to be more vocal about animal-rights causes, I would like to support farmer's markets, and I would like to be more like you and Gene (i.e., contribute to a greater good more often). 
Overall, thanks again!  Keep spreading this important message!  After all, we humans are just like pigs, if we could just get past that mental electrical fence we created… perhaps the rest of the herd might follow… 🙂
That email made the months of planning and effort with my board totally worth it. It brought a huge smile to my face. THAT is why we will host events and work to raise awareness.
Next, we'll turn our attention to our next event, Yoga + the Animals (already half-full) and to adding more content to our website, donating more micro grants to pigs and pugs in need, and continuing the search for a tiny farmette to call home.
Thank you for helping us create a more compassionate world. May all beings everywhere be happy and free. Bisous. x