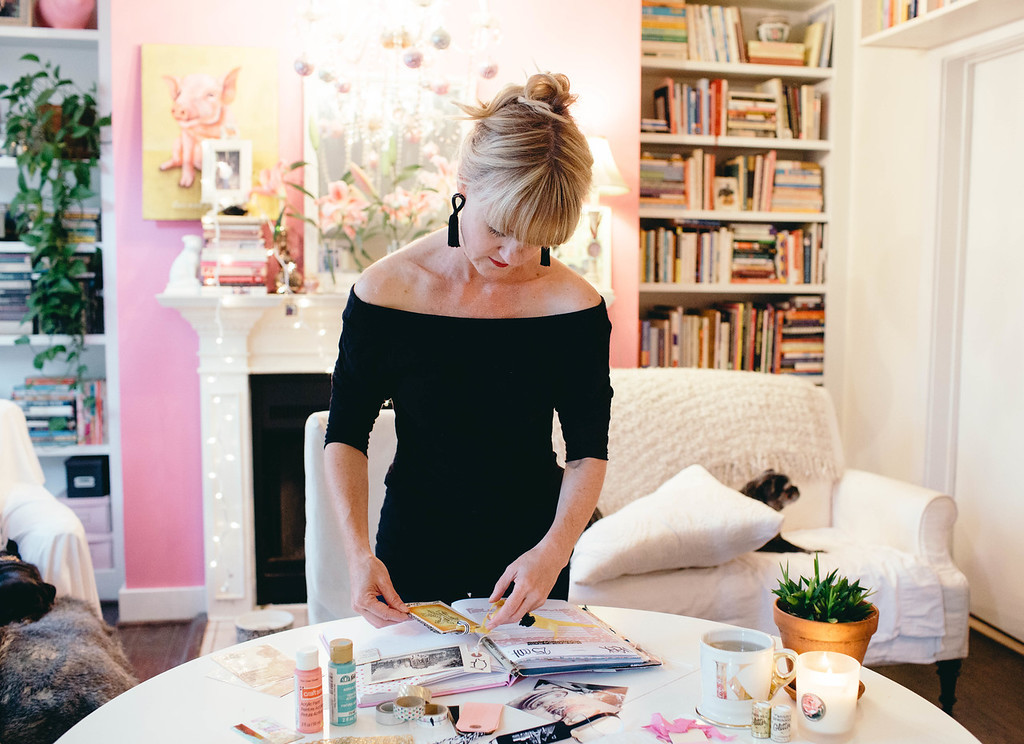 There is a connection between self-nurturing and self-respect.—Julia Cameron
For the past 15 years I've hosted retreats as a way to step out of our day-to-day to reflect on the bigger picture, slow down, and reconnect with our dreams. Sometimes we do this in Paris, Costa Rica, West Virginia, or Italy.
When I began offering virtual retreats in 2016, I was able to share a nugget of these retreats to experience from the comfort of your own home.
This Saturday from 12-3pm ET I'm hosting my last scheduled online offering of the year, Softening into Fall Virtual Retreat and we still have spots available.
The three hours are devoted to self-care and personal growth and carefully crafted to offer inspiration, education, and the practice of tranquillity tools such as yoga, mindfulness, and creativity.
Here's what others had to say about their  virtual retreat experiences:
I'd forgotten how much fun art journaling can be – especially not having to stay within the lines, cut with a scissors, or make something perfect. The last time I wrote in my art journal was January 2015. So much has changed since then, and this exercise helped me to shift my perspective to embracing change and discerning what I need in my life to spark joy.
I've been to local day long yoga workshops and enjoyed being with a group. But I have to say, being the introvert that I am and loving my quiet time, this was something I would do again and again. Being in my own familiar space, relaxed but at the same time connected with everyone by your video and the Facebook Group. You thought of everything!
The Virtual Retreat is exactly what I needed during this busy time of the year for me. As an introvert with an extroverted job and tendencies, it was wonderful to give myself the opportunity to "check out" for the day while still being in my own space. I lit candles and incense, put on soothing jazz, and spent the whole day in my comfiest clothes virtually connecting with my favorite yoga and mindfulness guru. I also loved that we will always have access to the modules. I have been on a few retreats with Kimberly, and leave wishing I could take it all with me. Now I can!  
When I decided to sign up for Kimberly's Virtual Retreat I wasn't convinced that it would work. The idea that I would be able to cut off the phone and commit myself to the experience seemed a bit of a stretch. Yet, I was able to stick with the schedule, ignore the phone-text -email messages, and fully immerse myself in the activities.If you aren't able to free up the full day, I think it would work use the videos and break the sessions into two half days.
I can't thank you enough for such a clearly thought out virtual retreat. It was such a blessing not to need to get dressed, drive to an airport, not have to put on make-up, and to be comfortable in my own home without distraction (except for my two fur babies).
This retreat provides a chance to hit the pause button, reflect, learn new skills, and focus on what's most meaningful to you.
If you can't join us live, you will receive the replay to retreat at your own time.
Finally, if you'd love to join but can't afford it right now,
reach out
by Friday noon ET and share why it would be meaningful to you. I'll choose a few submissions to join as my guest.
Thank you for supporting Tranquility du Jour. I LOVE being with you! x