Where do I begin? 2019 felt both long and exhilarating all rolled into one. Similar to my former week and month in review posts, below is a list of experiences from this year in no particular order.
LIST
Performed in a Washington Ballet summer boot camp "recital"
Hosted a week-long Tranquility in Tuscany retreat
Explored Venice with my parents and Tim
Saw Garth in concert in Pittsburgh
Had a declutter day in the Pink Palace (need a few more!)
Attended the Women's March
Saw Gloria Steinem's play (and her!) in NYC
Donated Miss Lillie to an animal shelter
Celebrated 15 years with Tim and released a podcast about it
Released 39 podcast episodes (includes one coming early next week)
Hosted four TDJ Lives
Hosted two online book launches (Daybook and Year of Tranquility)
Released my sixth book, Year of Tranquility
Released my seventh planner, Tranquility du Jour Daybook
Hosted a week-long retreat in Costa Rica
Took 70 ballet classes
Saw Candace Bushnell, Demi Moore, Austin Kleon discuss their new books
Hosted the 2019 New Year's Salon
Hosted two in-person four-week Tranquility Salons
Went to Enchant with Tim and Mookie
Took 73 yoga classes
Saw Krishna Das in concert
Hired a virtual assistant (yay!)
Attended four days of the Psychotherapy Networker conference
Went to Cape May with Tim and pups
Co-hosted Pigs, Pugs & Pinot event
Hosted TDJ Soiree
Co-hosted Yoga + the Animals
Co-hosted Pugs & Pints
Rented a Getaway cabin in the woods
Hosted Mom for 10 days in DC
Attended Farm Sanctuary's "Pignic"
New kimberlywilson.com website
Attended the National Animal Rights conference
Took a watercolor class in Paris
Daylong video and photo shoot in DC
Tim returned to Alliance for Justice as Senior Counsel
Spent 13 hours listening to live jazz in Paris
Worked with consultants on business strategy
Saw Tony Bennett in concert
Released spring and fall TranquiliT collections
Spent a long weekend in Colorado with a childhood friend
Basked in two solo trips to Paris (video peek)
Attended a Pug Takeover in Baltimore
Saw Midland in concert
Turned 46
Completed two veterinary social work classes
Taught teacher training in Montreal
Created and launched Tranquility Salon Online
Joined The Wing
Spoke on a panel about aging at The Wing
Attended the Reducetarian conference
Hired a psychologist for consultation
Flew to Oklahoma for a memorial service
Hosted two pet loss support groups and shared these resources
Attended a RISE conference in Charleston
Collaborated with therapy and coaching clients through hundreds of sessions
Took a watercolor hand lettering class
Quoted in Cosmopolitan, Greatist, USA Today's Modern Woman, and HuffPost
Spent Thanksgiving in Oklahoma
Dozens of trips to the vet
Girlfriend weekend in NYC: ballet, jazz, Goodwill shopping, vegan eating, Broadway show
Saw The Nutcracker and Sleeping Beauty ballets in DC
Battled migraines and listened to country music inside an MRI machine
Saw Jagged Little Pill on Broadway
Wrote 100+ blog posts
Saw The Sound Inside on Broadway
Released 9 Tea with Kimberly videos (more coming in 2020)
Read 26 books
Hosted Hip Tranquil Chick's 13th Birthday Online event
Created Paris (sold out) and Provence (2 rooms left) 2020 retreats
Two TV segments: Great Day Washington and Let's Talk Live
Hosting "Planning 2020 TDJ Style" on Sunday (open to all Year of Tranquility and Daybook supporters—see your bonuses page for the private link)
Hosting a three-hour Mini-Retreat at Tranquil Space/YogaWorks on Tuesday (spots available)
Seeing jazz rock star Branford Marsalis at the Kennedy Center on New Year's Eve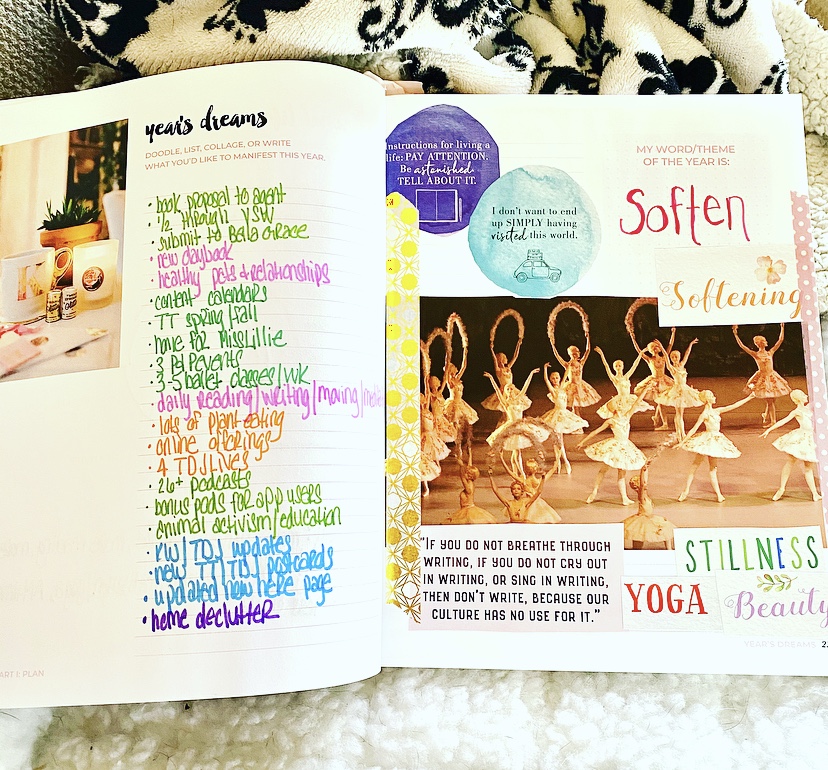 REFLECTION
To compile this list, I thumbed through my planner, dug into online systems for numbers, reviewed blog posts, and asked Tim, "What experiences do you recall?"
Here's my initial reflection after reviewing this list . . .
One thing that stands out to me is the amount of hosting I did—in-person and online. As an introvert, this is a lot of "on" time and I definitely felt it.
Considering the majority of my weekdays are filled with therapy and coaching clients, I'm also surprised to see how balanced the year looks with travel, concerts, professional development, exercise, and shows. Yay!
While reviewing the 2019 dreams penned into Year of Tranquility (see above image), I recognize that I didn't manifest certain goals—book proposal to agent, magazine and online writing submissions—along with others that I created as the year unfolded such as bi-monthly Tea with Kimberly videos and weekly Love Notes.
I fell in love with jazz, adjusted to Tim being back in an office full-time, spent quality time with my family, and returned to a regular yoga practice. I also recognized I was falling back into overscheduling habits and plan to make changes to right the ship. I'll share more about this and my 2020 dreams in next week's Year in Review podcast.
In the interim, please save the date: Sunday, January 5 is our FREE one-hour New Year, Fresh Start TDJ Live and you can sign up for it HERE.
SAVVY SOURCES
Sticking to New Year's Resolutions
Ditch New Year's Resolutions for Habit Tracking
Make 12 Micro-Resolutions Instead
23 Healthy New Year's Resolutions
New Year's Intentions
New Year's Resolutions Based on Your Zodiac Sign
How to Accomplish New Year's Resolutions
5 Ways to Achieve Your New Year's Resolutions